By Dar Mead
Manny Pacquiao is scheduled to make his ring return after a brief retirement from boxing. According to promoter Bob Arum the return date is November 15, 2016 and the venue will likely be the Thomas & Mack in Las Vegas. The front runner to face the Filipino Senator is undefeated American WBO light welterweight champion Terence Crawford. In order for Crawford to land the big money payday with Pacquiao he must first get past a tough test in Ukrainian WBC champion Viktor Postol trained by Freddie Roach.
The original opponent in line for a shot at Pacquiao was loudmouth boxer Adrien Broner, but difficulties in negotiations by pricing himself out asking for much more than the $4 million guarantee offered to him and recently being sentenced to 30 days in jail for showing up late to court quickly crossed him off the list.
Other opponents mentioned were Danny Garcia who claims to have turned down $4 million dollars, later Arum cleared the air saying that Garcia and his people have never spoken to him and he never gave them a financial offer. Top Rank fighter Jessie Vargas who owns the WBO welterweight championship is the back up plan should Crawford fail to defeat Postol.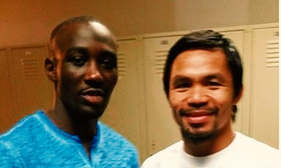 Freddie Roach who trains both Viktor Postol and Manny Pacquiao said he would be willing to match Pacquiao up with Postol if he beats Crawford, but the situation would be very awkward since he has a good relationship with both, especially being the long time trainer of Pacquiao.
Another long shot option is Floyd Mayweather Jr coming out of retirement and giving Pacquiao another shot. A rematch of their dull first fight that broke all Pay-Per-View records would also generate a large sum of money and would give fans the chance to see what Manny can do against Floyd with a good shoulder. The first fight was marred with the controversy over Pacquiao's undisclosed shoulder injury heading into the fight and being denied a legal pain killer right before the fight, hindering his ability to fully throw his right hand nullifying his offensive ability.