One to watch is a new article series that I am starting. In each article I will be discussing a different up and coming pro boxer each time.
Today I will be talking about "The Machine" Anthony Fowler.
Name: Anthony Fowler
Nickname: The Machine
Division: Light Middleweight
Height: 1.79m
Date Of Birth: 10th March 1991
Nationality: British
Home Town: Liverpool, United Kingdom
Trainer: David Coldwell
Anthony Fowler recently made his professional boxing debut when he blew away Arthurs Gerkins in 1 round on the Brook vs Spence undercard at Bramall Lane on the 27th May 2017. Since the he has had 1 fight defeating Nikoloz Gvajava by knockout in the third round. Fowler is one of Britain's most decorated amateurs winning the following:
– 6 time National ABA Champion
– 5 time GB Champion
– European Bronze Medallist
– World Championship Senior Bronze Medallist
– Olympic Gloves Gold Medallist
– Tammer Tournament Gold Medallist
– Dublin Gold Medallist
– Prime Ministry Gold Medallist
– Nations Cup Gold Medallist
– 2014 Commonwealth Gold Medallist
– Golden Belt Tournament Gold Medallist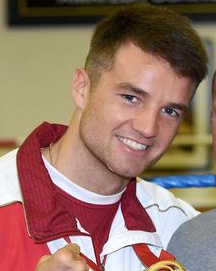 Fowler started boxing at the age of 11 and only 1 year after lacing up his first pair of gloves he became the English Schoolboy Title at the age of 12. At the 2016 Olympic Games in Rio he was the captain of the GB Olympic team however unfortunately he lost in the first round by unanimous decision to Zhanibek Alimkhanuly. However the closing of one chapter led to the start of a new journey when Fowler signed for Matchroom Boxing in April 2017.
Inside the ring Anthony is a very exciting light middleweight prospect. He is a very busy fighter with a consistent work rate. No matter what comes back at him, he comes back with his stiff jab. He also has the ability to vary his jab, with it sometimes being quick and sometimes being more powerful. He loves to attack the body and break down his opponent as was evidently seen in his contest against Gerkins. When turned the leaf into the pro game I was confident that Fowler could adapt to the pro game because his amateur style suited the pro game. He carried bags of power and was knocking people down in the amateurs like a bowling ball rolling onto bowling pins. What is underrated about Anthony is that he can dig deep when the going gets tough like in his fight vs Stefen Haertel in the ABA quarter finals in 2013.
I am very excited to see where the journey of this man leads. I believe that with a few tweaks to his defence, Fowler can go on to dominate British Boxing for years to come. He is an exciting fighter and I recommend you watch out as he tries to make his dream comes true. The Machine has arrived!