It's a shame that the WBO world junior middleweight championship between Puerto Rican legend Miguel Cotto and Japanese contender Yoshihiro Kamegai has gotten zero press or promotion from the major sports networks because it is being overshadowed by the farce known as Floyd Mayweather vs. Conor McGregor both on August 26.
For months the mainstream media has been promoting this Mayweather-McGregor bout a fight that is nothing but a spectacle with the supposed best ever in boxing fighting a UFC fighter making his professional boxing debut. The fight is a sham and I hope casuals do not dish out the 100 dollars just to hope Conor has a shot to pull off the upset.
I don't understand how Mayweather can get a pass fighting a guy with a 0-0 boxing record for his 50th fight. I can't hate him because he is getting paid but the fight is not a legit boxing match it will be like a sparring or exhibition, other boxers deserved a shot but they are too risky and Floyd wants to secure that 50th win with low risk so he can claim he beat Rocky Marciano's record.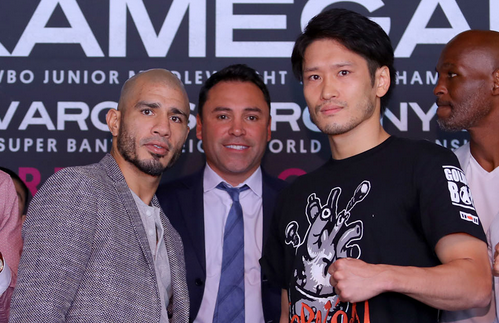 Over in California you have a real fight, with Miguel Cotto going back down to 154 pounds to fight for the Vacant WBO championship against a game and tough Japanese fighter in Yoshihiro Kamegai. That fight has gotten nearly zero press or coverage and will probably wind up more action packed than the money grab in Las Vegas.
The great thing about Cotto's fight is it's on regular HBO, you don't have to dish out one hundred to watch it. I agree with Bernard Hopkins and Oscar De La Hoya that the real fight to see is Canelo Alvarez vs. Gennady Golovkin not May-Mac.
Just recently we saw history with Terence Crawford becoming the first 4 belt unified undisputed world junior welterweight world champion in history on ESPN, and that historical event got minor coverage.
I just hope tonight real boxing fans don't let the Cotto-Kamegai fight slip under the radar. If you have a fight party put it on just in case the Mayweather vs. McGregor PPV underwhelms and turns into a sparring session for 12 rounds.