Former welterweight champion Danny Garcia returned to form on Saturday night at the Mandalay Bay Resort and Casino in Las Vegas, Nevada stopping a very tough Brandon Rios by TKO at 2:25 of round 9.
The fight started out with Garcia immediately fighting off the backfoot and Rios doing what he does best going forward and cutting the ring off.
There were a few exchanges and the majority of the time Garcia landed more accurate sharp punches while Rios was sloppy throwing mostly smothering arm punches and landing a good shot here and there.
Both fighters came to the ring in peak condition, this was a different Brandon Rios tonight, his stamina and pressure was like his younger days, not the fighter that struggled to make weight for the Timothy Bradley fight.
During the middle rounds Rios had his moments mainly on the ropes but every time he would drop his hands or go forward Garcia found a home for the over hand right, it was only a matter of time before those right hands took their toll.
Round number 9 was the round when Garcia landed a clean right hand that snapped Rios chin back and dropped him like sack of bricks, Rios struggled as he got up, referee Kenny Bayless asked Rios if he was okay and asked him to come forward, only to stop the fight after seeing Rios wobble forward on unsteady legs.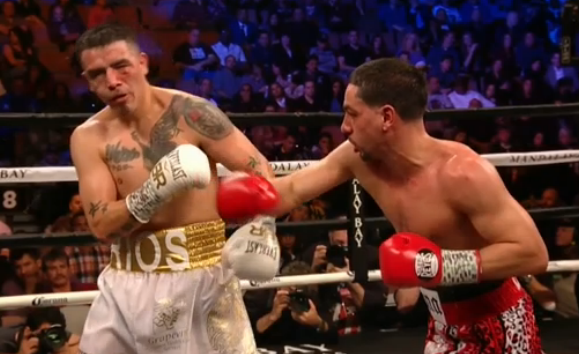 This was a great knockout win against a credible comeback opponent for Garcia. He showed that his power, chin and conditioning are still there after the year layoff.
Brandon Rios should contemplate retirement because a fighter's health is most important and he can't keep taking this type of punishment at the elite level anymore.
After the fight Shawn Porter came into the ring with his father Kenny interrupting the post fight interview with Jim Grey to call out Danny Garcia the two former champions exchanged verbal insults only for team Porter to get escorted out of the ring.
Garcia has many options at 147 pounds, including a fight with Shawn Porter, rematch with Keith Thurman to avenge his lone professional defeat or hard hitting undefeated champion Errol Spence Jr.