Las Vegas – This week, the UFC's digital streaming service UFC FIGHT PASS® will celebrate the greatest submission experts in MMA and grappling history with a special themed week of content.
Black Belt Week will feature 7-days of Original content, curated content, live UFC and MMA action, plus a double-header on Saturday where two of the world's leading no-gi grappling promotions – Polaris and EBI – stream live events on the same day.
Black Belt Week begins Today, February 12 with the premiere of The Beginning: The True Story of UFC 1, an original full-hour documentary on the Gracie family and Brazilian Ju-Jitsu's pivot role in the creation of the UFC.
The Beginning features rare archival footage of the Gracies, along with interviews with UFC founding fathers Art Davie and Rorion Gracie, UFC 1 competitors Royce Gracie, Art Jimmerson and Zane Frazier, original UFC referee Joao Alberto and UFC 1 commentator Kathy Long.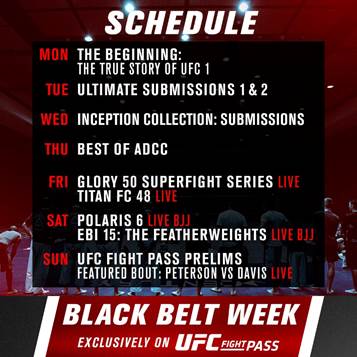 Black Belt Week continues on Tuesday with presentations of Ultimate Submissions 1 and 2, which were originally released on DVD a decade ago.
Wednesday sees the first episode of FIGHT PASS's new Inception feature, which showcases the very first examples of specific techniques been used in the UFC Octagon.
On Thursday, FIGHT PASS presents The Best of ADCC, featuring some of the greatest grappling matches from the gold standard of BJJ competition, the Abu Dhabi Combat Club Submission Wrestling Championships. Fans can expect to see Georges St-Pierre vs Otto Olson, Jacare Souza vs Matt Lindland, Ricco Rodriguez vs Minotauro Nogueira and the legendary first showdown between Eddie Bravo and Royler Gracie.
Three straight days of live action begin on Friday, when MMA promotion Titan FC streams its 48th event, live and exclusively on FIGHT PASS. There is also exciting live action from GLORY SuperFight Series, although few submission attempts are anticipated during the card from the world's leading kickboxing promotion.
Submission Saturday will provide a feast of action for BJJ/grappling fans. First, at 1:30pm ET, British-based grappling promotions Polaris will stream its first event of 2018 live & exclusively from the O2 in London, England. Polaris 6 is stacked with quality matches, including former UFC title challenger Jake Shields vs IBJJF World No-Gi champion Craig Jones and former UFC lightweight champion Benson Henderson taking on the experienced black belt AJ Agazarm.
After the action is over in London, FIGHT PASS turns its attention to Los Angeles, where EBI 15: The Featherweights will see 16 of the world's greatest submission specialists compete in a single-elimination tournament. EBI 15 starts at 8pm, ET, and features defending champion Eddie Cummings and EBI bantamweight champion Geo Martinez, plus a combat jiu-jitsu super-fight.
Finally, Black Belt Week taps out on Sunday with three live and exclusive UFC FIGHT PASS Prelim fights from the UFC FIGHT NIGHT® event in Austin, Texas.