Canelo Alvarez tested positive for trace levels of Clenbuterol, a steroid that is typically injected in some cattle to beef it up. The good thing is the May 5th rematch with Gennady Golovkin is still on, but the bad part is people are already lambasting Canelo as a drug cheat.
This type of meat contamination is common in Mexico and the levels he tested for were so small that they were within range of what is expected from meat contamination according to Daniel Eichner the Director of the lab that handled the VADA testing for Canelo.
There are people ready to slam Canelo as a drug cheat or steroid abuser because of this but you cannot label someone guilty unless you know all of the facts surrounding the situation.
Spanish cyclist Alberto Contador tested positive for trace amounts of Clenbuterol from food contamination as well, this drug is common containment in a lot of meats in places like China and Mexico.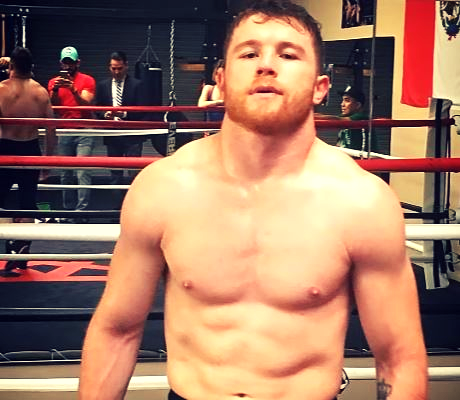 VADA is a trustworthy organization that tests athletes year round for PED's. Canelo willingly submitted to the voluntary testing program and never gave them any difficulty.
Why would a fighter who willingly submits to stringent testing risk his legacy and his upcoming big money fight by taking an easily detected steroid like Clenbuterol?
"I am an athlete who respects the sport and this surprises me and bothers me because it had never happened to me. I will submit to all the tests that require me to clarify this embarrassing situation and I trust that at the end the truth will prevail," said a shocked Canelo.
Canelo will move his camp to San Diego, but I hope he doesn't lose focus over this. Now he will be worried that the bought might be called off and Golovkin could be looking for a protest or a way out of the rematch.
If Canelo destroys Golovkin in the rematch, his haters will discredit his win by claiming steroids. I hope people look deeper into this issue and realize it was meat contamination and not him trying to use steroids to get the edge over.

Big time boxing fan. Grew up in East Los, and been an avid follower of the sport and the legends like Julio Cesar Chavez, Vicente Saldivar, Salvador Sanchez, Carlos Zarate, Erik Morales, Ricardo Lopez and Juan Manuel Marquez just to name a few.
Current favorite boxers: Canelo Alvarez, Mikey Garcia.