Sensational Irish boxer, Michael Conlan returns to the boxing ring on St. Patrick's Day against tough Hungarian challenger David Berna, the fight will be shown live as part of the undercard to Jose Ramirez vs. Amir Imam, live on BoxNation and in the states on ESPN.
Conlan, (5-0, 4 KOs) is a rising star, he won bronze at the 2012 Olympic games in London, and competed again at the Rio de Janeiro games in 2016, he represents Ireland, a proud fighting nation, and home of UFC superstar Conor McGregor.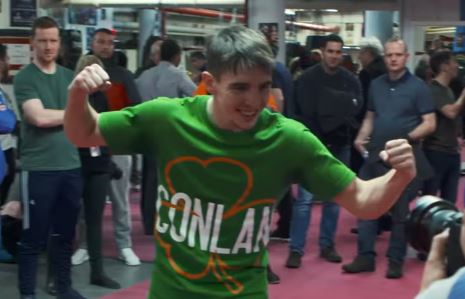 At 26, he is being guided by Top Rank promoter Bob Arum, having him fight in the United States to help build up a US following and hopefully develop him into an international superstar like Filipino ring legend Manny Pacquiao.
Berna, (15-2, 14 KOs) has fought the majority of his fights in Budapest, Hungary. The two times he stepped up in competition and fought out of his country he lost by knockout to Toka Kahn Clary in the USA and Oleg Malynovskyi in the Ukraine.
This fight will be a showcase fight for Conlan to help develop him as a fighter and get him used to the professional ranks, and better prepare him for a title shot in the future.
With more experience and exposure in the US, Conlan could become a star attraction and soon headline his own Pay-Per-View in Las Vegas, Nevada.
Michael Conlan vs. David Berna takes place at the famed Madison Square Garden in New York City, on St. Patrick's Day, March 17, 2018 on BoxNation and ESPN.