It's been almost a year since the Notorious Conor McGregor fought Floyd "Money" Mayweather in the boxing ring, and close to two years since he fought in the UFC Octagon, the public still craves his return to the fight game.
McGregor makes headlines in and out of the ring, he recently flew all the way to New York to back up his boy Artem Lobov when he saw video that went viral of Khabib Nurmagomedov basically checking him for some negative words he said about him to the media.
In the short clip you can see Khabib with his hand around Artem and talking to him like a little boy, slapping the side of his head lightly, and repeating some words in Russian. Artem looks submissive and apologetic during the entire confrontation.
One would think that would be the end of it and Artem would have apologized and squashed it, instead he felt humiliated and contacted Conor McGregor and with a group of Irish hooligans they boarded a plane to NY to start ruckus at the UFC 223 media day throwing things at the bus filled with fighters, managers and trainers, Conor threw a dolly and shattered bus window causing two fighters to suffer injuries that forced them off the fight card.
All of this was done to try to scare Khabib, the truth is if Conor really wanted to confront Khabib he knows where the fighter hotel is and would have met up with him there, all this loud talking and primitive behavior was just a facade to pretend he was being tough or gangster.
That event just made it worse for Conor because Khabib is even more ticked off and motivated to whoop his ass.
I honestly think Conor is trying to get kicked out of the UFC to avoid a fight with Khabib, the style doesn't suit Conor, if Chad Mendes was able to take him down, Khabib will have an easy night taking Conor down.
The biggest weakness for Conor are strong wrestlers, Khabib is the best, he is scary because he can grab onto an ankle or a knee and not let go no matter how hard you try to shake him off and just drive through to finish the takedown.
If I were Conor McGregor and had to choose between boxing and MMA, I'd go with boxing, he did well against Floyd Mayweather Jr., Conor never boxed professional and in his pro debut he fought the best boxer in the world and went 10 rounds with him before gassing out in the later rounds.
Conor won't have to worry about the threat of the takedown and he could be promoted under the Zuffa boxing banner that Dana White is trying to start-up.
McGregor should comeback and fight Paulie Malignaggi, it would be a nice little comeback fight to go some rounds and get the feel of trying new things in the boxing ring. Conor could practice some techniques on Paulie and not worry about getting hurt badly, let it go a few rounds and then finish him off with some power shots in rounds 11 or 12.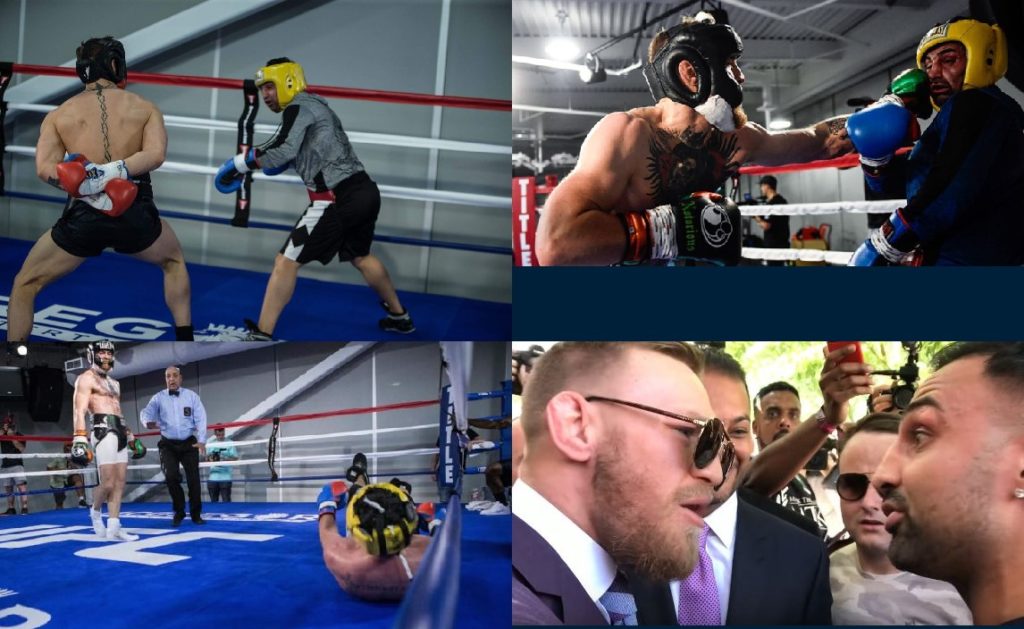 The McGregor vs. Malignaggi fight will sell because the two have beef stemming from a sparring session that was purposely leaked and Conor would make more money in boxing obviously since he would be the main draw and get a big percentage of Pay-Per-View.
If he continues in the UFC, he would just take more punishment for less money, Khabib, Tony Ferguson and Kevin Lee will all give him tough fights and possibly beat him, they are tough durable and explosive strong wrestlers with good stamina.
If you like money and living lavish like Conor McGregor, it is a no brainer its risk versus reward, stick with boxing instead of going back to the UFC for lesser money and harder fights.