What an awesome performance by the Filipino ring legend Manny "Pacman" Pacquiao stopping Lucas Matthysse in seven rounds to win the WBA welterweight title, and he did it without his long time trainer Freddie Roach.
Working his corner tonight were his best friend Buboy Fernandez and conditioning coach Justin Fortune also part of the original Team Pacquiao.
The tandem worked in harmony. There was no commotion and anytime Buboy needed help he would listen to what Fortune would tell him and relay it to Manny.
It was a brilliant performance from a 39-year-old Pacquiao. His stamina was there tonight, his reflexes, and his power all showcased he looked like he find the fountain of youth against the monster puncher Lucas Matthysse.
What amazed me most was how fast Manny was and how he was able to block the powerful overhand right punch of Matthysse.
The crisp power was still there and it looked like he was having fun again, maybe it was the motivation to prove the doubters wrong, but it could also be the approach to the fight, they trained smart instead of cocky.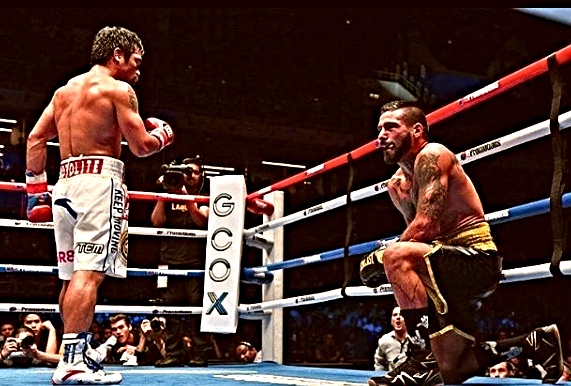 The conditioning of Pacquiao was the key to the fight, Fortune told the media that when you have an older fighter you have to train him smarter and that means more rest. It was noted by Fortune that Manny over-trained going into the Jeff Horn fight.
People thought it was more excuses, but tonight showed Fortune was correct the longer rest period between training sessions helped Manny recover and keep his conditioning on fight night.
When fought Horn he was tired and sluggish, but in tonight's fight he was moving like the Manny of old and lighting his opponent up from different angles.
In the Horn fight he got tired after spending his energy in round 9 trying to knockout the much bigger Horn.
After round 9 he couldn't seem to pull the trigger and was focused on trying to get another stamina recharge but it was too late the fight was over and Horn was gifted the decision and the WBO belt.
Do I think this is the last of Freddie Roach and Manny Pacquiao? No, I don't.
I believe Manny will use Roach for his next fight, but only opted to use Buboy for this fight to help give Buboy a name as a head trainer.
When Manny retires from boxing he wants Buboy to have his own stable of Filipino boxers, and this is why Manny let Buboy train him for this fight, so it helps his name and gives him recognition as a legit trainer going forward.
If I were to bet on it, I'd say Manny Pacquiao and Freddie Roach will reunite again. Manny will need Roach's boxing brain if he were to go forward and challenge the young guns like Vasyl Lomachenko, Terence Crawford, Keith Thurman or Errol Spence.
Tonight is a great night for all those involved with Team Pacquiao, especially Buboy and Justin Fortune they were finally able to step out of the shadow of Freddie Roach and show to the world that they were capable of helping Manny win a championship fight.
Erwin Lastimosa is a long time boxing fan and enjoys boxing discussion with his peers. Some of his favorite fighters are Sugar Ray Leonard, Roberto Duran, Marvin Hagler, Muhammad Ali, Flash Elorde, Mike Tyson and Manny Pacquiao.