So many boxers today are silent when it comes to calling out Errol Spence Jr., but not lightweight champion Mikey Garcia, after he defeat Robert Easter Jr. he demanded the fight.
No catchweight like Manny Pacquiao, Mikey is willing to fight Spence at 147 pounds for the title.
Mikey has those Aztec warrior genes, we don't play when it comes to proving quien es mas macho (who is more macho), it's in our DNA.
That is why so many of the best boxers got Mexican blood running through their veins because we got the balls to fight the best and go out like champions with no fear.
It is no surprise that Juan Manuel Marquez is Mikey's favorite boxer, both of them are intelligent and brave.
When asked about fighting Manny Pacquiao, Garcia said it's of no interest to him because he would rather fight a scary guy like Spence for a real challenge.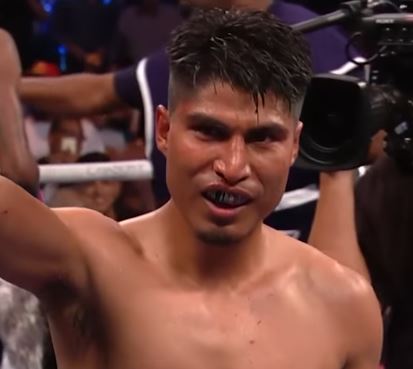 People are clowning on Mikey for calling Spence out, but instead of hating on him, give him props for his willingness to fight the best. That is what boxing needs for guys to challenge the best not hide and pick and choose opponents. I never heard Danny Garcia, Shawn Porter, Keith Thurman or even Manny Pacquiao calling out Spence.
If Mikey were to beat Errol Spence you gotta put this man instant legend status, and at least consider him the pound for pound best for doing what no one else dreamed he could do.
Take into consideration the legit world titles he won at 126, 130, 135, and 140 pounds, if he beats Spence for the IBF belt at 147 pounds that would make him a legit world champion in 5 weight divisions.
Mikey made it known he doesn't want to fight guys at catchweights, is it a subtle jab at Manny Pacquiao?
Remember the hype and cherry picks that Pacquiao fought? He got his biggest wins against drained fighters or lower division fighters moving up to fight him, he never really fought them at their healthiest, he always had some type of advantage.
Mikey is cut from a different cloth, he wants to challenge his skills and feels if he is the best he must fight the best at their weight and without advantages to prove who the real Alpha is.
I personally wouldn't mind a Garcia vs. Pacquiao fight because the casual Pac fanboys are hyping the Pacman up again after he beat Lucas Matthysse a fighter who just came for a check. Mikey would squash that real quick and do another Marquez on Pacquiao, plus it would be an easy payday for him and put his name in the mainstream with a devastating KO win over a famous fighter.
Whatever Mikey does I always support him, there is no coward cherry picking, and that is a refreshing look in boxing with so many of the champs not willing to face each other.
Mikey is a real throwback and a true Mexican warrior that every real boxing fan should get behind.

Big time boxing fan. Grew up in East Los, and been an avid follower of the sport and the legends like Julio Cesar Chavez, Vicente Saldivar, Salvador Sanchez, Carlos Zarate, Erik Morales, Ricardo Lopez and Juan Manuel Marquez just to name a few.
Current favorite boxers: Canelo Alvarez, Mikey Garcia.