Amir "King" Khan will step into the Arena Birmingham in Birmingham, England against Samuel Vargas on September 8 and he will need to make a statement on fight night to lure superstar Manny Pacquiao to the table.
Pacquiao is a promotional free agent and his options are wide open. Eddie Hearn of Matchroom promotions is the only promoter who has vocally shown an aggressive interest in signing the Filipino southpaw to his stable of fighters and to his new streaming deal DAZN.
Hearn recently told media he has talked to Pacquiao's team on the phone and met in Boston in person with a few representatives to talk business.
Obviously the biggest fight out there for Manny Pacquiao other than a Floyd Mayweather rematch is a showdown with his former training partner and friend Amir Khan.
The two trained together at the Wild Card boxing club in Hollywood and in the Philippines under the guidance of legendary trainer Freddie Roach, both have since moved on from the American trainer.
Khan is the biggest name in the welterweight division other than Pacquiao, so this would put the two biggest stars in the division going head to head and it will surely be an all action fight.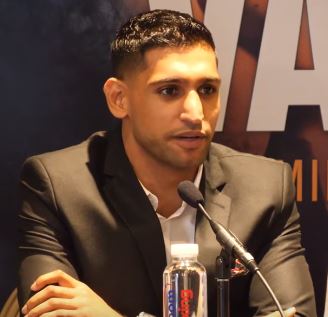 If Khan can defeat Samuel Vargas and avoid any upset he may likely land the Pacquiao fight and it could take place in Dubai or the UK for December.
Khan is also the key to getting Pacquiao to sign a deal with Hearn and DAZN. If they can acquire the 8 division world champion it would be a huge deal in boxing.
The Pacquiao vs. Khan fight has been on the table for years but has never came to fruition both sides have met several times to make the super-fight happen but Bob Arum and Top Rank we never too keen on letting their star boxer in the ring with Khan.
Now that Pacquiao is no longer with Arum, he can finally make the fight happen. It will be a lucrative bout overseas especially since tax issues are the main reason Pacquiao hasn't fought int he United States.
The next best bout for Khan would be the very difficult fight to make against Kell Brook. They have so much hatred and bad blood they don't even want to come to terms on fight negotiations. Both Khan and Brook even fought up in weight against dangerous fighters Canelo Alvarez and Gennady Golovkin but neither are willing to face off against each other in the ring over pride.
Muki is a long time boxing fan and enjoys Mixed Martial Arts. He has been writing boxing articles since he was a teen and his favorite fighters of the past are Muhammad Ali, Mike Tyson, Prince Naseem Hamed. Favorite MMA fighters are Khabib Nurmagomedov, Georges St-Pierre, Anderson Silva and Fedor Emelianenko.