Say what you want about Floyd Mayweather Jr. but you cannot deny his ability to draw attention to himself or his upcoming fights.
The morning of the Saul Canelo Alvarez vs. Gennady Golovkin rematch, Mayweather happened to be in Tokyo, Japan at the same nightclub as Manny Pacquiao to announce a rematch of his own on his official Instagram.
Was it a coincidence? I think not especially since the two have each others phone numbers and have spoken before while Floyd was visiting the Philippines.
Just like when they first met during the Miami Heat game and met in a hotel room to discuss the fight, it was done and the super-fight was on.
Now that Pacquiao has left Bob Arum and is his own boss, it makes sense for the rematch to happen, since they cut out the middleman and Floyd and Manny will see the lions share of the profit.
From the looks of it, Mayweather Promotions would be the lead promoter and the bout would take place in December of 2018.
If I were to guess the fight will probably be held in Las Vegas as usual since that is the only place Mayweather likes to fight. If it was an international affair and Mayweather went overseas to England to fight Pacquiao that would be a first for him and it would surely delight the UK fans.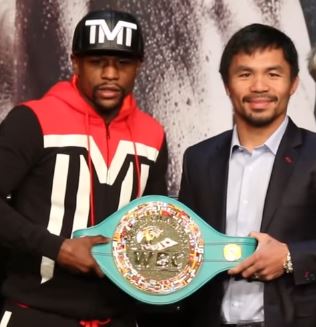 The odd man out here is Amir Khan, he has been chasing both Floyd and Manny for 5 years but always gets let down. After his fight with Sammy Vargas his main goal was to land Pacquiao but Eddie Hearn said the best fight to be made is the one with rival Kell Brook.
The first Mayweather-Pacquiao fight was huge and broke all Pay-per-view records. It took over 5 years to make and it wasn't a barn burner. Many paying fans felt cheated because the fight didn't live up to the hype and wasn't worth the 100 dollar price tag.
The angle for this rematch is the shoulder injury excuse. Pacquiao hurt his shoulder bad and was denied a pain killer injection before the fight and said that is what limited his productivity in the fight. After the fight Pacquiao had shoulder surgery in LA.
Since they fought in 2015, Pacquiao had a slew of fights including a rematch with Tim Bradley, Jessie Vargas, a controversial loss to Australian Jeff Horn and a sensational knockout win over Argentine power puncher Lucas Matthysse.
Floyd went on to fight Andre Berto and UFC super star Conor McGregor in a massive crossover PPV event.
If the fight really does happen, I believe it will do great numbers possibly sell over 2 million PPV buys, but will the casual fans still remember the poor showing Pacquiao gave or will they forgive and forget and believe he has a shot against Floyd this time around.