The fight barely last 96 seconds, but Jeff "The Hornet" Horn delivered on his promise that he would knockout the 43-year-old Australian boxing legend Anthony "The Man" Mundine and it happen to come quickly in the first round.
In a packed Suncorp Stadium in Brisbane, Australia, Horn scored a vicious KO in front of hometown fans, it was the same place he defeat Manny "Pacman" Pacquiao in 2017 and became WBO welterweight world champion.
During the lead up to the fight it was touted as youth versus experience. Mundine has seen better days and the years in boxing have caught up to him the knockout is a sign that he should hang the gloves up and call it a day.
For Horn the KO boosted his confidence even further and he feels the light middleweight division (154 lbs) is where he feels stronger. He had difficulty making welterweight (147 lbs).
The fight was fought at a catchweight of 156 pounds and anything over 154 pounds is considered the middleweight division. The weight condition was to accommodate Mundine who normally fights at 160 or 168 pounds, the cut seemed too much at his age and it showed on fight night he was done with one punch.
I wonder if 154 pounds is the best division for Horn or is this KO over a faded legend a false confidence booster for the former Australian school teacher?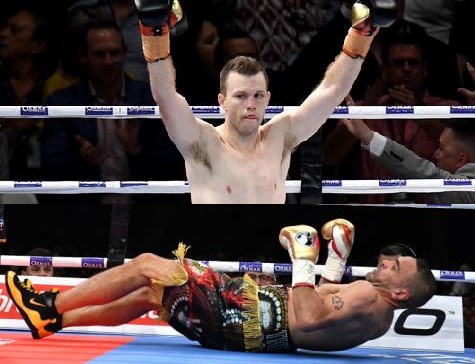 His only defeat came at the hands of undefeated American Terence Crawford who was moving up from 140 pounds to 147, he was a naturally smaller man and he was hurting and punishing Horn, stopping him in round nine. The fight cost Horn his WBO title and left him making excuses for the TKO loss.
I think if Horn continues fighting he should try and get a new trainer. Nothing against his current trainer Glenn Rushton but Horn needs better defense, especially if he is going to fight some of the top guys in the light middleweight division.
Before the fight with Mundine, Horn was demanding a rematch with Crawford but in Brisbane, Australia. After the fight he said he feels stronger above welterweight and might continue on in the division.
The division he is entering has big boys who hit hard like American champs Jarret Hurd and Jermell Charlo. If he also wants to fight for a championship he will have to fight in the USA, because most of the American champions are scared they might face the same fate Manny Pacquiao did when he fought in Horn's backyard, and get robbed on the cards.
Congratulations to Jeff Horn over his KO of Anthony Mundine, but he has to come back to reality and not let this win over an aging legend give him false bravado.