It's been a few days since the WBC world heavyweight championship Deontay Wilder vs. Tyson Fury fight, and I had time to let the dust settle and go back and watch it.
The thing is when you score fights you gotta really analyze them. I predicted Wilder to win, but felt the judges got it wrong.
Was Fury effective, who would you rather be in the fight? I think if you asked anyone with no bias they would tell you Fury looked scared, and Wilder looked composed.
I think it is safe to say most people would rather be Wilder since he took less damage and dropped Fury. It ended in a split draw with the scorecards of 115–111 for Wilder, 114–112 for Fury, and 113–113 even.
The the fight was close, but the knockdowns made all the difference in the world. I had Wilder up in the fight even before the 12th round knockdown which should have been ruled a knockout, but the referee gave Fury a longer count and time to recover.
I feel Wilder landed the more damaging blows in the fight, where Fury mostly feigned with his upper body to see if Deontay would take the bait, his offense mainly consisted of a flicking jab. Deontay walked Fury down all night and never took a backward step. It looked like Fury was fighting scared he was flinching at everything, just doing a lot of wasted movement.
Fury had over 50 pounds on Wilder and still couldn't hurt him.
The champion remained poised and calm, he was controlling the ring that night and was patient and not wasting anything but trying to time and calculate his devastating right hand shot. That right hand finisher landed a few times, he dropped Fury in round 9 with a glancing blow that took Fury down with wobbling legs. Fury beat the count and I give him credit for it.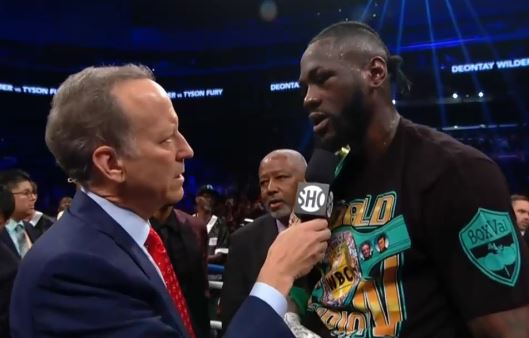 The controversial part was the 12th and final round. Referee Jack Reiss should have waved off the fight the moment Fury fell like a tree slamming the back of his head on the canvas.
The safety of a fighter is paramount and the damage was vicious, people are praising Reiss for letting it continue and giving him a slower count, and time to recover by asking him to walk back and forth but look what happen to Adonis Stevenson the same night, he suffered brain swelling in his stoppage loss and was put into a medically induced coma.
What if something like that happen to Fury? Wilder has the hardest punches in all of boxing and what if Fury didn't survive and got hit with 3 more flush punches and he fell to his knees and suffered damage.
This is boxing, this is a gentleman's sport and it's not a blood sport, if you wanna see some savage fighting go watch UFC or mixed martial arts where they allow another man to hit a man while he is down and out cold.
The fight the boxing world wants to see is Deontay Wilder vs. Anthony Joshua, the rematch with Fury can wait, we need to make this unification bout to see who really is the undisputed heavyweight champion of the world. Fury can fight on the undercard and face the winner.