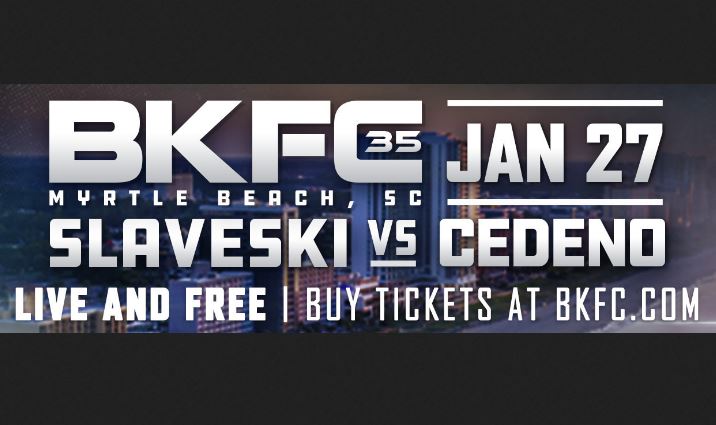 The Bare Knuckle Fighting Championship heads to Myrtle Beach for BKFC 35 Myrtle Beach: Gorjan Slaveski vs. Yosdenis Cedeno Live at the John T. Rhodes Myrtle Beach Sports Center on Friday night.
The fastest growing combat sport in the world is Bare Knuckle Boxing and BKFC is at the forefront of the genre.
On Friday fight fans will be able to watch a stacked card live online on the BKFC APP and on FITE.TV Pay-Per-View.
The main event of the night is a BKFC welterweight title eliminator with the winner next in line for a world title shot.
Undefeated standouts Gorjan "GoGo" Slaveski (4-0, 3 KOs) of Macedonia and Yosdenis "Pink Panther" Cedeno (2-0) of Cuba will go toe to toe with the chance to fight for the belt next.
With their undefeated records on the line, you know they have a lot to lose and a chance at the championship is also motivation for Slaveski and Cedeno to not leave it in the judges hands and go for the finish.
In the Co-Main Event, two MMA veterans will make their Bare Knuckle Fighting debut. UFC vet Justin "Tank" Scoggins and Bellator vet Keith "The Rockstar" Richardson will face each other in their BKFC debuts.
BKFC 35 Fight Card
Gorjan Slaveski vs. Yosdenis Cedeno – BKFC welterweight world title eliminator
Keith Richardson vs. Justin Scoggins
Andy Nguyen vs. Nekah Dmitriyeva
Brandon Bushaw vs. Paul Teague
Jordan Weeks vs. Murat Kazgan
Marcus Brimage vs. Trevor Loken
Tony Soto vs. Joshua Marer
Devin Gibson vs. Albert Inclan
Tomar Washington vs. Willie Sears
Preliminary Card
Roberto Armas vs. Brett Lowry
Doug Coltrane vs. Brian Jackson
James Brown vs. Stevo Morris
Watch BKFC 35 Myrtle Beach: Gorjan Slaveski vs. Yosdenis Cedeno Live Stream on Friday, January 27, 2023 at 8:00 PM ET / 5:00 PM PT on The BKFC APP and on FITE.TV. For more information visit: https://www.bareknuckle.tv/events/bkfc-35-myrtle-beach:c4443381-211c-4ac5-bcaa-35b51bf76b9b