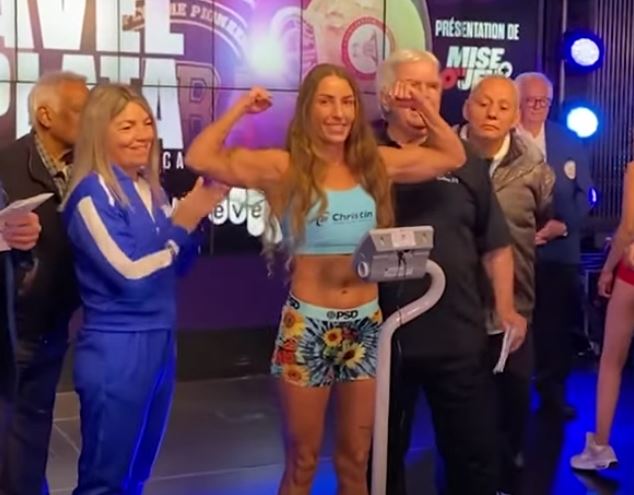 Popular undefeated Canadian WBC light flyweight champion Kim Clavel (16-0, 3 KOs) will try to become the first Canadian-born unified world champion on Friday the 13th when she takes on WBA champion Jessica Nery Plata (28-2, 3 KOs) of Mexico. Unbeaten super lightweight prospect Mazlum Akdeniz of Montreal will be featured in the co-main event.
Clavel, 32, is a native of Montreal, Quebec, Canada and made headlines when she decided to put her boxing career on hold during the pandemic to help save lives, she was given the Pat Tillman Award for Service at the 2020 ESPY Awards for her honorable deed.
Now the unbeaten champion is ready to make history when she defends and unifies her world title against a Mexican champion Jessica Nery Plata.
Plata, 28, like Clavel is not known for her power, both champions only have 3 knockouts to their name and rely on their boxing ability and points to win fights via decision.
Even though neither champ has devastating knockout power, the possibility of a KO is always there so they must keep their defense and reflexes on point to avoid the perfect punch from landing.
Undefeated 140-pound prospect Mazlum Akdeniz will fight Cristian Bielma in the co-main event. Akdeniz (17-0-0, 8 KOs) is a southpaw from Montreal, and he is ready to make his career go to the next level by putting himself in line for a world title shot in the near future. The 25-year-old local fighter wants to put on a show in front of a hometown crowd with a fight of the night performance.
Irresistible II Fight Card
Women's Light Flyweight Championship – Kim Clavel vs. Jessica Nery Plata (WBC/WBA Titles)
Super Lightweight – Mazlum Akdeniz vs. Cristian Bielma
Women's Welterweight – Marie-Pier Houle vs. Marisol Moreno
Women's Featherweight – Caroline Veyre vs. Estefania Gonzalez Franco
Lightweight – Eric Basran vs. Juan Carlos Garcia
How to watch Irresistible II: Kim Clavel vs. Jessica Nery Plata, Date and Start Time
The event takes place at Place Bell arena in Laval, Canada and the broadcast will start at 7:00 p.m. ET/ 4:00 p.m. PT on Friday, January 13, 2023 and will be shown via live stream on ESPN+. For more information on tonight's fight and other GYM promoted visit: https://www.groupeyvonmichel.ca/