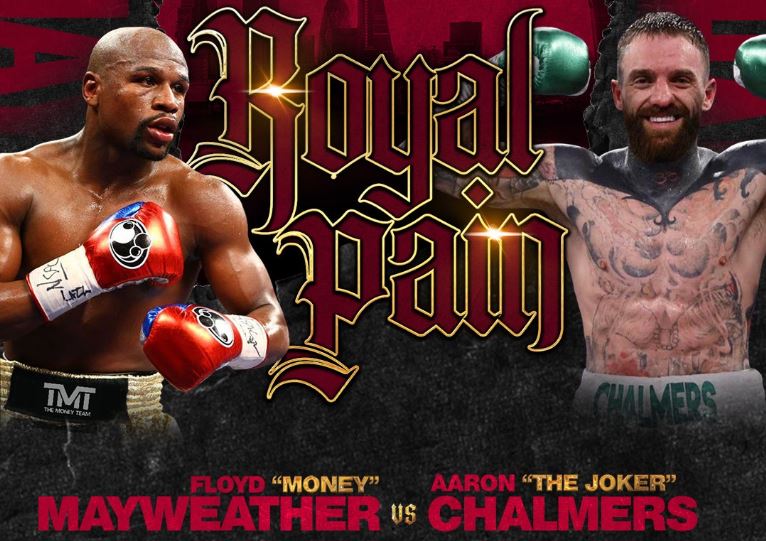 The greatest boxer of our time, Floyd "Money" Mayweather steps back into the ring against British reality TV and former MMA fighter, Aaron "The Joker" Chalmers, on Saturday, in London, England live stream on the Zeus Network.
The co-headliner is also a massive bout features two reality stars who battle it out for the title of the Baddest B#tch on reality TV, Natalie Nunn will take on Tommie Lee in a three round bout sure to entertain.
Floyd Mayweather has broken all records in Boxing Pay-Per-View, he retired from the sport of boxing in 2017 after his huge mega fight with UFC star Conor McGregor.
Mayweather is one of the richest boxers and also the only American boxer to retire from the sport undefeated with 50 wins and no losses. He surpassed the late heavyweight champion Rocky Marciano who was 49-0 when he retired from boxing.
Tonight Mayweather at the age of 46 continues to fight in exhibition bouts which he calls easy money fights because they are low risk and he gets a hefty award in the millions. He will take on another MMA fighter in Aaron Chalmers who fought in Bellator and also appeared on the reality TV series "Geordie Shore."
Chalmers is only 35 years of age and will have the youth on his side, he is not looking at this fight as a sparring match but as a chance to test his boxing skills against one of the greatest of all time and will go for the knockout if the opportunity presents itself.
Official Fight Card
Floyd Mayweather vs. Aaron Chalmers
Natalie Nunn vs. Tommie Lee
Ulysses Diaz vs. Khalas Karim
J'Hon Ingram vs. Meeks Kastelo
Antonio Zepeda vs. Christopher Lovejoy
Kevin Johnson vs. Mike Hales
Sammy-Jo Luxton vs. Hayley Barraclough
Watch Mayweather vs. Chalmers, Nunn vs. Lee Boxing Live Stream on Saturday, February 25, 2023 at 2:00 PM ET / 11:00 AM PT on Zeus Network Pay-Per-View ($29.99). For information visit: https://www.thezeusnetwork.com/products/mayweather