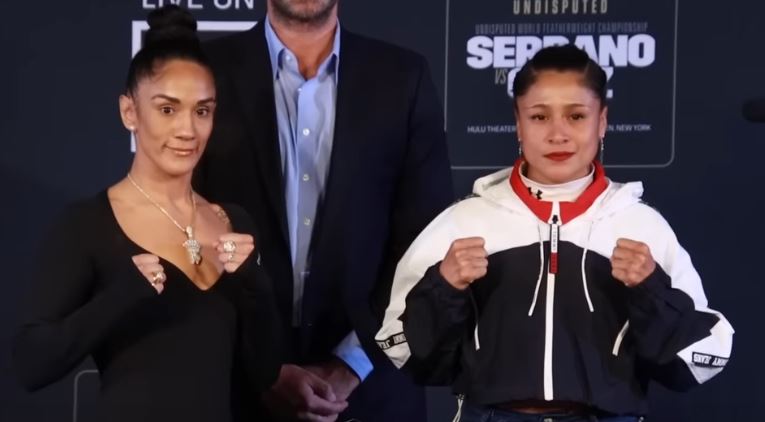 Two women's undisputed world title fights will take place at the Hulu Theater at Madison Square Garden in New York on February 3rd and the event will be promoted by Matchroom boxing and broadcast via live stream on DAZN.
Amanda "The Real Deal" Serrano (43-2-1 30 KOs) will try to achieve her goal of becoming an undisputed world champion when she puts her WBC, WBO and IBF world featherweight tiles on the line against Mexican WBA champion Erika Cruz (15-1 3 KOs) in the main event.
Serrano is one of the biggest names in the sport and already holds world titles in seven different weight classes comparing her to the Manny Pacquiao of women's boxing. The Puerto Rican southpaw is willing to fight anyone and showed this by moving up to 135 pounds to challenge undisputed women's lightweight champion Katie Taylor. Serrano lost on the cards but had many fans who felt she won the fight with Taylor.
Now Serrano moves back down in weight to her more natural weight division of 126 pounds and has the chance to become undisputed against Erika Cruz.
In the co-main event, WBC, WBO, and IBF world super featherweight champion Alycia Baumgardner (13-1 7 KOs) will face French contender Elhem Mekhaled (15-1 3 KOs) for the vacant WBA title. Baumgardner is the favorite but Mekhaled doesn't care what the odds makers say, she is coming to win.
Fight Card
Women's Undisputed Featherweight Championship – Amanda Serrano vs. Erika Cruz (WBC, WBA, WBO and IBF Titles)
Women's Undisputed Super Featherweight Championship – Alycia Baumgardner vs. Elhem Mekhaled (WBC, WBA, WBO, and IBF Titles)
Junior Welterweight – Richardson Hitchins vs. John Bauza
Flyweight – Yankiel Rivera vs. Fernando Diaz
Women's Featherweight – Skye Nicolson vs. Tania Alvarez
Women's Super Bantamweight – Ramla Ali vs. Avril Mathie
Women's Super Middleweight – Shadasia Green vs. Elin Cederroos
Lightweight – Harley Mederos vs. Julio Madera
Super Lightweight – Aaron Aponte vs. Joshua David Rivera
How to Watch Amanda Serrano vs. Erika Cruz and Alycia Baumgardner vs. Elhem Mekhaled
The fights will start at 5:00 PM PT on Saturday, February 3, 2023 and will be show online on DAZN the subscription based live streaming service, for more information on how to subscribe and watch visit: https://www.dazn.com