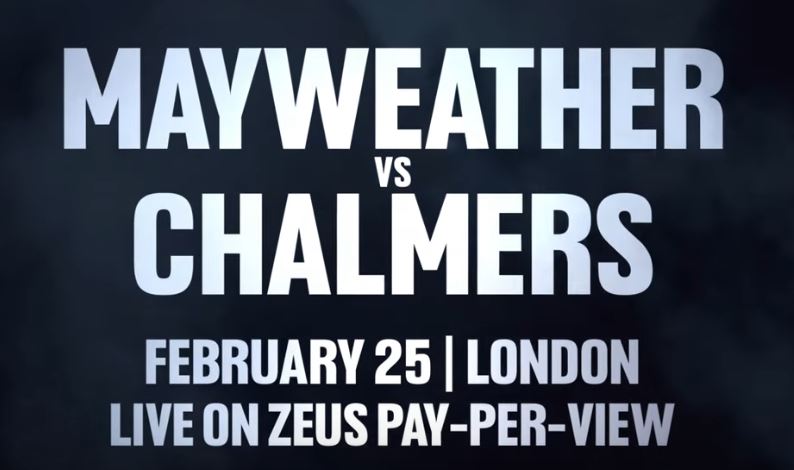 On Saturday night the undefeated boxing legend Floyd "Money" Mayweather continues his exhibition boxing tour with a main event showdown against MMA fighter and reality star Aaron "The Joker" Chalmers at The O2 Arena in London, England.
The co-main event has a showdown between self proclaimed bad girls Natalie Nunn and Tommie Lee, the two female reality stars will go toe to toe in a special attraction bout set for Three, two minute rounds.
Bareknuckle fighter and pro boxer Ulysses "Monster" Diaz takes on Meek Kastelo in a cruiserweight scrap set for four rounds.
Mayweather is known for being the biggest draw in all of boxing and he makes millions off exhibition bouts which is something he says he enjoys and keeps him active in retirement.
Chalmers is best known for being on the British show "Geordie Shore" and he also fought in professional MMA fights so he will have some fighting experience entering the ring.
Even though Mayweather vs. Chalmers is an exhibition bout and the fight doesn't go down as a win or loss on their professional records, it doesn't mean neither guy will go easy. Chalmers knows he can make a name for himself by knocking out or roughing up Mayweather, and Mayweather knows the stakes are high because he is undefeated and they want to be the first to knock him out.
The event will be shown live on the Zeus Network Pay-Per-View for $29.99 and will be stacked with multiple boxing matches.
Fight Card
Floyd Mayweather vs. Aaron Chalmers
Natalie Nunn vs. Tommie Lee
Ulysses Diaz vs. Khalas Karim (cruiserweight)
J'Hon Ingram vs. Meeks Kastelo (lightweight)
Antonio Zepeda vs. Christopher Lovejoy (heavyweight)
Kevin Johnson vs. Mike Hales (super welterweight)
Sammy-Jo Luxton vs. Hayley Barraclough (light heavyweight)
How to watch Mayweather vs. Chalmers Boxing Match Online
The broadcast begins at 2:00 PM ET / 11:00 AM PT on Saturday, February 25, 2023 and it will be live streamed on the Zeus Network.For more information on how to watch visit: https://www.thezeusnetwork.com/products/mayweather