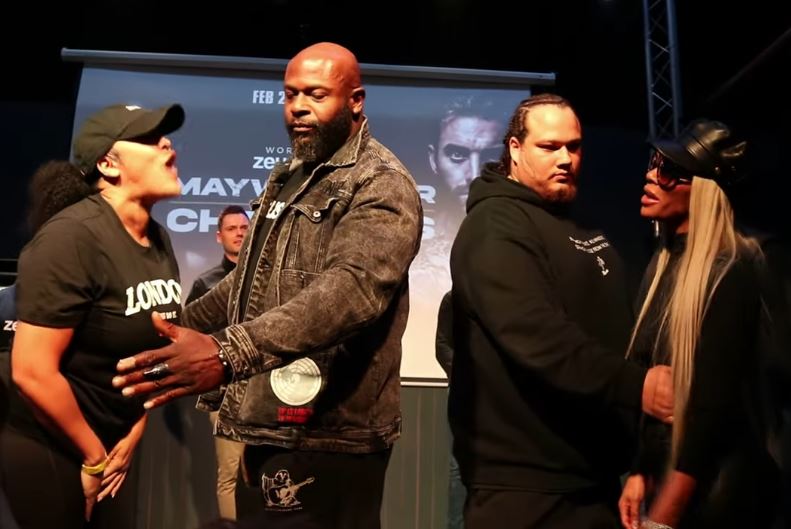 Bad Girl Natalie Nunn and Love & Hip Hop: Atlanta reality star Tommie Lee will be the co-main event for the Floyd Mayweather vs. Aaron Chalmers exhibition boxing event on February 25th in London.
For those not familiar with Natalie Nunn she was one of the cast members for the reality show Bad Girls club and has been in multiple physical altercations on reality TV and most recently on her Zeus network reality show Baddies.
Nunn has a lot of aggressive energy and that could also hurt her in the fight with Lee because she could end up gassing out trying to finish her off early.
Natalie Nunn and Tommie Lee will finally square off in the boxing ring and all the pre-fight trash talk between the two will be settled on Saturday night.
Nunn told Lee this is not street or cat fight, no hair pulling, and she will prevail with the gloves on because of her athletic background.
The boxing match is set for 3 rounds at 2 minutes a round and it will be a fun fight for fans of the reality TV starlets.
The main event has the undefeated boxing legend Floyd "Money" Mayweather taking on MMA fighter and reality star of Geordie Shore, Alex "The Joker" Chalmers, in an exhibition bout with a weight limit of 160 pounds. The event will be on Pay-Per-View on the Zeus Network.
Official Boxing Card
Floyd Mayweather vs. Aaron Chalmers
Natalie Nunn vs. Tommie Lee
Ulysses Diaz vs. Khalas Karim
J'Hon Ingram vs. Meeks Kastelo
Antonio Zepeda vs. Christopher Lovejoy
Kevin Johnson vs. Mike Hales
Sammy-Jo Luxton vs. Hayley Barraclough
Reality TV Bad Girls Fight: Natalie Nunn vs. Tommie Lee Boxing Match Live Stream takes place at The O2 in London, England on Saturday, February 25, 2023 at 2 PM ET / 11 AM PT on the Zeus Network Pay-Per-View ($29.99) for more information visit: https://www.thezeusnetwork.com/products/mayweather