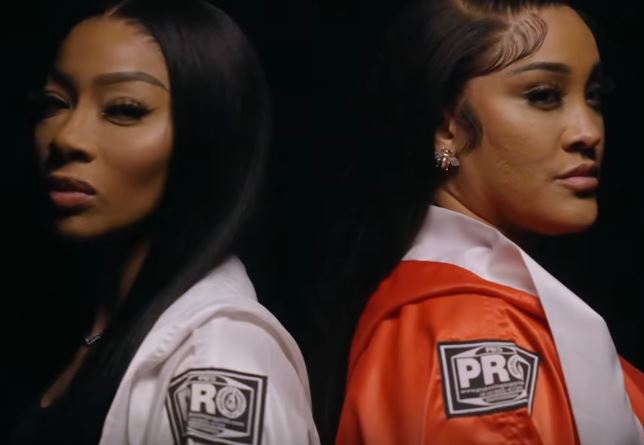 The bad girls from "Baddies" Natalie Nunn and Tommie Lee are ready to throw it down in the boxing ring on Saturday, February 25th, live from the O2 Arena in London, England on the Floyd Mayweather vs. Aaron Chalmers fight card.
With all the drama leading up to Natalie Nunn vs. Tommie Lee boxing match, the two nearly came to blows on Friday's weigh-in and had to be held back by massive security guards.
Nunn was extra amped up and couldn't wait to get her hands on Lee, this has been one of the most anticipated reality TV fights because fans of the Bad Girls can't wait to see if Nunn can back up her loud talk and see if Lee can humble her. The pair will have three, 2 minute rounds to settle their beef, and this will be a boxing match with no elbows, kicking, hair pulling, just gloved hands.
The Nunn vs. Lee boxing match is second billing under the main event between boxing legend Floyd "Money" Mayweather and MMA fighter/Reality TV star Aaron "The Joker" Chalmers.
Mayweather is the greatest boxer of this generation and retired with a perfect 50 and 0 record, he has gone on to fight exhibition bouts for a couple million dollars an event and likes to stay active without the fights going on his professional record. Chalmers doesn't care about the match being an exhibition, he is going to fight like its a pro fight and test himself against the greatest boxer.
The event is broadcast by Zeus Network and will be available for purchase on Pay-Per-View and can be watched live online.
Boxing Card
Floyd Mayweather vs. Aaron Chalmers
Natalie Nunn vs. Tommie Lee
Ulysses Diaz vs. Khalas Karim
J'Hon Ingram vs. Meeks Kastelo
Antonio Zepeda vs. Christopher Lovejoy
Kevin Johnson vs. Mike Hales
Sammy-Jo Luxton vs. Hayley Barraclough
Watch the Natalie Nunn vs. Tommie Lee Boxing Match Live Stream on the undercard of Floyd Mayweather vs. Aaron Chalmers, Saturday, February 25, 2023 at 2 PM ET / 11 AM PT on the Zeus Network Pay-Per-View ($29.99) for more information visit: https://www.thezeusnetwork.com/products/mayweather