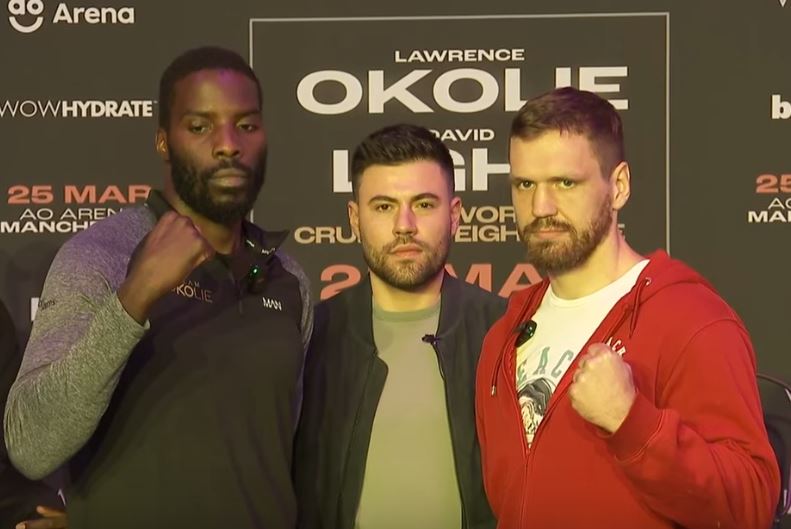 Lawrence 'The Sauce' Okolie vs. David 'White' Light is a WBO world cruiserweight championship bout on March 25th at the AO Arena in Manchester.
Lawrence Okolie (18-0, 14 KOs) is the current WBO cruiserweight champion and he is one of the best boxers of Great Britain. The tall and long boxer is a hard hitter who has 14 knockouts to his 18 wins.
David Light (20-0, 12 KOs) enters the boxing ring on Saturday night as the underdog, but the journeyman from New Zealand doesn't care if the world is doubting him, he believes in his capabilities and is upset minded.
This battle of undefeated fighters is a can't miss. Someone's 0 has got to go, and the hometown favorite Okolie is ready to put on a show with a finish of the undefeated challenger, but Light is not going down easy and coming to win.
The co-main event has 2020 Olympic bronze medalist Frazer Clarke (5-0, 4 KOs) of Great Britain taking on tall Romanian contender Bogdan Dinu (20-4-0, 16 KOs). Clarke want the fast track to a world title and not even ten fights into his pro career he is taking on someone with Dinu's experience speaks volumes about his mindset and eagerness to become a top level heavyweight.
Rising female boxer Karriss Artingstall will also see action on the card as she takes on Linzi Buczynskyj in a super featherweight bout.
Fight Card
Cruiserweight Championship – Lawrence Okolie vs. David Light (WBO Title)
Heavyweight – Frazer Clarke vs. Bogdan Dinu
Women's Super Featherweight – Karriss Artingstall vs. Linzi Buczynskyj
Super Featherweight – Michael Gomez Jr vs. Levi Giles
Super Middleweight – Callum Simpson vs. Celso Neves
Lawrence Okolie vs David Light broadcast starts at 3:00 pm ET / 12:00 pm PT on Saturday, March 25, 2023, live streamed on Pro Box TV in the USA and in the UK on Sky Sports. For more information visit: https://www.boxxer.com/events/fight-night-manchester-saturday-25-march-2023-ao-arena-manchester/