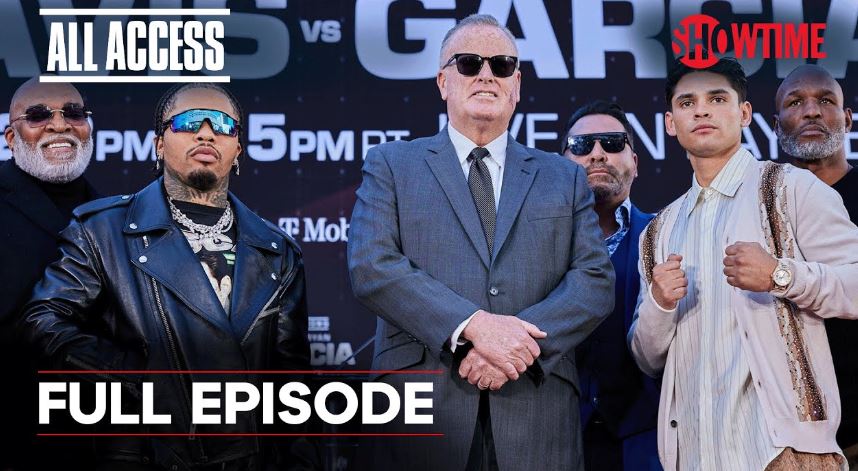 In episode two of ALL ACCESS: Davis vs Garcia, Tank Davis begins with a trip to the local convenient store to stock up on his favorite candies and goes on a helicopter ride at night overlooking the Las Vegas strip and immediately heads over to training camp in a happy mood.
Davis has no worries and no stress entering the biggest Pay-Per-View fight of his career. For Davis this is nothing new and he has already been a world champion in several weight divisions.
When Davis spars his trainer Calvin Ford tells everyone in the gym that no cameras are allowed to record his sparring sessions, they are kept secret so the opposing camp doesn't have any information on the preparation or strategy they will use. Ford likes what he sees and Davis is always happy after sparring showing his confidence heading into April 22nd at an all time high.
Ryan Garcia starts off with a haircut so he looks fresh for the week, and ALL ACCESS goes over his fight with Luke Campbell where Garcia was knocked down hard by the British Olympian. Garcia shook it off and got up hurt but weathered the storm to finish the fight by stopping Campbell. Garcia credits this moment because it made him known he is a true champion having gotten off the canvas and comeback from adversity to win in the end.
Trainer Joe Goossen who is one of the best trainers to come out of California is in charge of preparing Garcia for his biggest fight, and he is confident they will prevail.
Garcia goes to watch CREED III and just like Tank he goes for the candy and boasts about all the candy he is going to eat while in training camp, and still make weight. Garcia touches on the moment he was thinking about quitting boxing during a mental health issue he was experiencing and in the end he decided to keep focused on boxing.
Watch the entire episode two of ALL ACCESS: Gervonta Tank Davis vs. Ryan Garcia.
Watch Gervonta 'Tank' Davis vs. 'King' Ryan Garcia live on Saturday, April 22, 2023 on SHOWTIME Pay-Per-View.