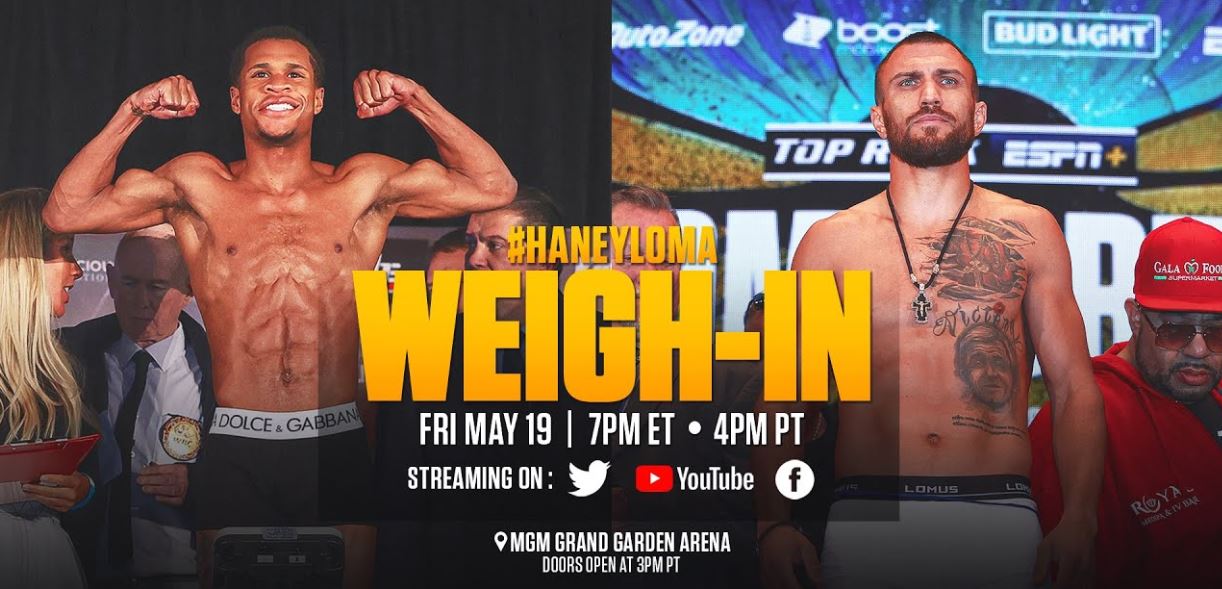 Fight fans can watch the live stream weigh-in for Devin Haney vs. Vasiliy Lomachenko undisputed lightweight championship on Top Rank's YouTube page, on Friday afternoon.
The Top Rank on ESPN Pay-Per-View event will take place on Saturday night at the MGM Grand Garden Arena in Las Vegas. The event will be headlined by undefeated WBA/WBC/WBO/IBF undisputed world lightweight champion Devin Haney and three-division champion Vasiliy Lomachenko.
Haney vs Lomachenko will pit the older lion against the younger lion, and it could either be a changing of the guard or the aging former champion using his experience to teach the younger fighter a lesson in the ring.
The fight card will also feature several fighters and up and comers including former world champion Oscar Valdez taking on Adam Lopez in the super featherweight co-main event.
Fast rising lightweight prospect Raymond Muratalla will also see action on Saturday's card and he takes on Jeremiah Nakathila.
Another world championship bout will also be on the card when Australian contender Andrew Moloney fights Japanese contender Junto Nakatani for the vacant WBO junior bantamweight title.
Before the vent fight fans must make the contractual weight limits.
Fight Card and Weights
Lightweight Championship (135 lbs) – Devin Haney vs. Vasiliy Lomachenko (Undisputed WBA/WBC/WBO/IBF Titles)
Super Featherweight (130 lbs) – Oscar Valdez vs. Adam Lopez
Lightweight (135 lbs) – Raymond Muratalla vs. Jeremiah Nakathila
Junior Bantamweight Champiomship (115 lbs) – Andrew Moloney vs. Junto Nakatani (Vacant WBO Title)
Middleweight (160 lbs) – Nico Ali Walsh vs. Danny Rosenberger
Lightweight (135 lbs) – Emiliano Vargas vs. Rafael Jasso
Lightweight (135 lbs) – Abdullah Mason vs. Desmond Lyons
Super Bantamweight (122 lbs) – Floyd "Cash Flow" Diaz vs. Luis Fernando Saavedra
Middleweight (160 lbs) – Amari Jones vs. Pachino Hill
Watch the Haney vs. Lomachenko live stream weigh in results on Friday, May 19, 2023 at 7:00 PM ET / 4:00 PM PT on Top Rank's YouTube Channel.
Devin Haney vs. Vasiliy Lomachenko will stream live on Top Rank on ESPN+ Pay-Per-View at 10 p.m. ET/7 p.m. PT on Saturday, May 20, 2023. The event will cost $59.99 and will be available via cable and satellite pay-per-view providers.