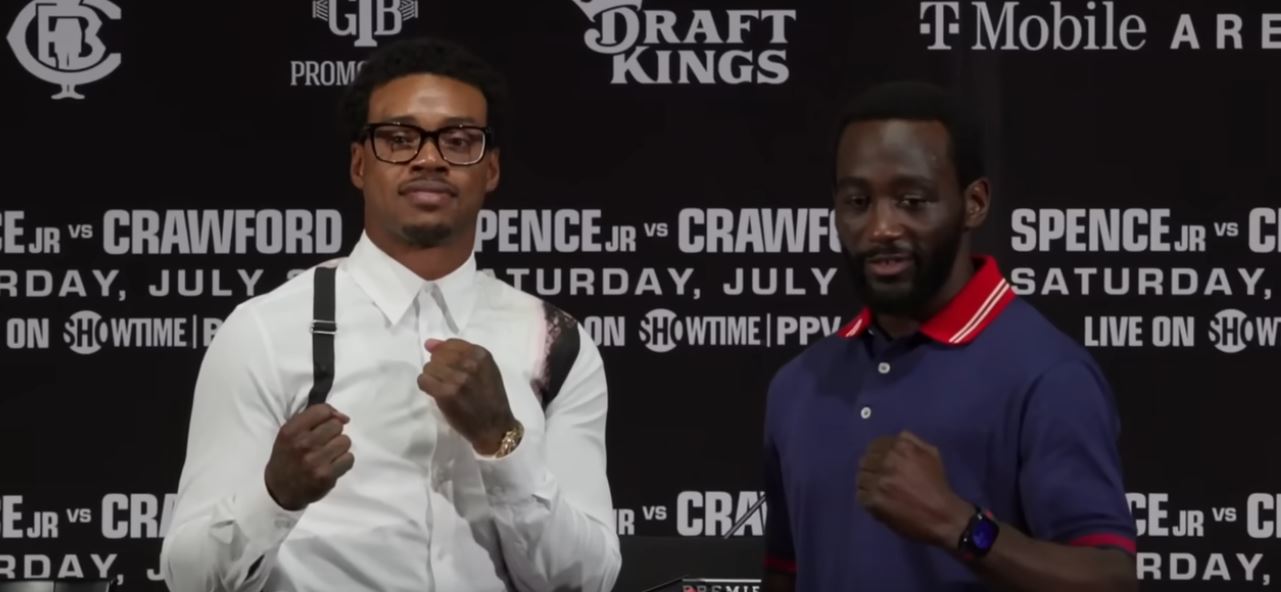 My God man, all I hear is the so-called experts say, Errol Spence Jr. vs. Terence Crawford "It's a 50-50 fight", I can't pick a winner.
Really? Well, let me explain to you why it's not a 50-50 fight and who has the advantage.
We can all agree that Errol Spence is the naturally bigger man; it's true. But that doesn't make him the winner.
Spence told press, "Who has Crawford fought". Really, well, I ask, who has Spence fought? Honestly, think about that question.
Who has Errol Spence fought?
Yordenis Ugas – 4 Losses, Stands right in front of you. Win TKO. He didn't knock Ugas out.
Danny Garcia – 2 Losses, Moderate foot Movement. Unanimous Decision. He didn't knock Danny out.
Shawn Porter – 2 Losses, Pressure fighter. Split Decision. He didn't knock Shawn out.
Mikey Garcia – 0 Losses, Coming up in Weight, Moderate foot movement. Unanimous Decision. He didn't knock Mikey out.
Carlos Ocampo – 0 Losses, Young kid 22 years old. Rated #16. Knocked him out.
Lamont Peterson – 3 Losses, Coming up in weight. 36 years old. Little foot movement. He did not knock Lamont out, WRTD.
Kell Brook – 1 Loss, Moderate foot movement. He didn't knock out Kell. He lost due to injury. They list it as a KO, but it was really a TKO. I repeat he didn't knock Kell out.
Leonard Bundu – 1 Loss, Little guy with 33 fights 12 Knockouts, no power. TKO for Spence.
Chris Algieri – 2 Losses, Moderate foot movement. 25 fights, 9 KO's No Power. Algieri went up in weight, TKO. He didn't knock out Chris.
I could go on. Point made. Who has Errol Spence fought? Nobody.
Spence is big for the weight class. He has a high punch output, and he wears the other fighter down. But let's not talk like he's beating all the talent around and knocking them out.
Spence does not have a One Hitter Quitter punch. He is beating up guys that don't move. And the fighters that move he wins by UD and SD's.
Who has Errol Spence really fought? Honestly. Who? If you stand right in front of him, and don't move too much, he will beat you up. That is True. He punches hard and he punches a lot. His approach is very bad for guys that stand right in front of him.
He is like a Welterweight version of "Marvelous" Marvin Hagler. Marvin out worked his opponents and beat them down. Hard work won fights for Marvin Hagler. He put the work in round after round.
Same for Spence.
Errol doesn't have one punch KO power. His wins come from the accumulation of hard punches enforced on fighters standing right in front of him. Plus, he's coming forward to get it done. This is a problem.
Honestly, do you think Terence will just stand there and let Errol punch him over and over. That's not going to happen. Terence has much better footwork than Mikey Garcia. Terence has much better footwork than Danny Garcia. These are recent fights.
Terence Crawford has better footwork than any fighter Errol has faced.
NO! Don't say it! I know what you want to say. And it goes like this, "Errol was in a car accident" and you want to say, "Errol had Retina damage". Let me say, Errol is a long way from the car accident and a bad retina has nothing to do with his ability to fight. The Retina has been repaired and he has been fighting with the blessing of his eye doctor for a few years now. And don't forget he came away from the car accident without a broken bone. I believe he did have a few broken teeth. So, are you making excuses for Errol? Are you trying to set up an explanation for a loss?
Are you making these statements because you know the question really is, "Who has Errol Fought"?
Every fighter that Errol took a belt from Terence could have taken their belts too. The only belt holder that Errol will fight that can keep his belt after the fight is Terence Crawford. Of all the fighters that Errol has faced, none of them are of the Class of Terence Crawford and the same for Terence and Errol's record.
To try and talk down Terence's record of opponents, when you know that Terence could have taken all the belts Errol has taken, its laughable. What a Joke.
So, why is this not a 50-50 fight.
Simply put, Terence can do all that Errol can do. And when you can do all that your opponent can do, and your arms are longer, you have an advantage. Terence doesn't have a One Hitter Quitter either, but he can fight going backwards, Errol hasn't shown that he's be able to fight going backwards. And because Errol pressure fights, his coming forward against a guy that can fight on his backfoot, and is ambidextrous, makes it highly likely that Errol runs into punches of Terence.
Errol is bigger, but not faster. All being equal, speed and reaction, let's say, if they each throw a punch at the exact same time, Errol gets hit first; his arms are shorter.
Errol's chance of winning is to beat down Terence and that's not likely, because Bud won't stand in front of Errol. Errol has not fought a fighter with Terence's ability to move back, side to side and forward.
Can Errol win? Of Course, Errol can win. Errol is a very good pressure fighter, but I believe his pressure style is going to be the reason he doesn't win. Ironically, it is also the reason he can win.
This fight is awfully similar to the Marvin Hagler vs Sugar Ray Leonard fight. Marvin Hagler was the "Stronger, High Volume, Pressure Fighter" and Ray Leonard was the guy that could fight off the Backfoot, Side to Side and Forward.
This is not a 50-50 fight, slight advantage Crawford. 60/40 Approximate Vegas Odds, Edge goes to Crawford.