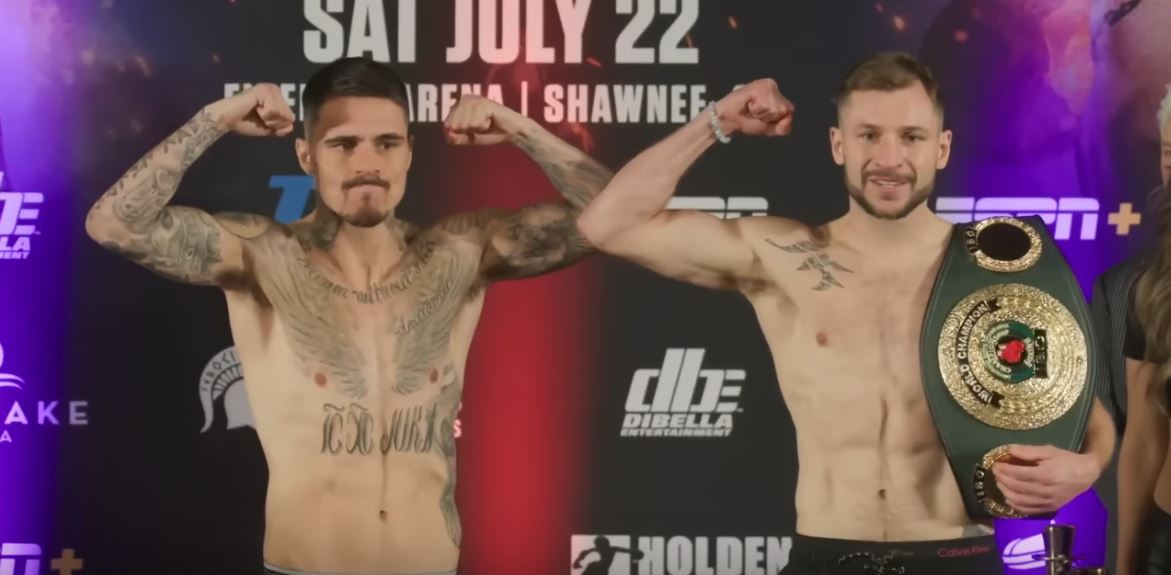 Top Rank heads to the Fire Lake Arena in Shawnee, Oklahoma on Saturday night for a lightweight double-header George Kambosos Jr. vs. Maxi Hughes – Keyshawn Davis vs. Francesco Patera, live on ESPN.
Australian George Kambosos Jr. (20-2, 10 KOs) is the former unified and lineal lightweight champion and he makes his Top Rank debut against British southpaw Max Hughes (26-5-2, 5 KOs) in a 12-round IBF world title eliminator with the winner inching closer to a world title opportunity.
Before Kambosos became a world champion he was an undefeated rising prospect who made his name being the lead sparring partner of Filipino ring legend Manny "PacMan" Pacquiao. He believes his years sparring with the ferocious southpaw Pacquiao will help him prepare for a southpaw like Hughes.
When Kambosos finally got his title opportunity against Teofimo Lopez he wasn't given a shot and many believed he would be knocked out early and was a cherry picked opponent for Lopez. The Australian of Greek descent proved the naysayers wrong and he beat Lopez in a stunning upset and claimed the lightweight belts.
Kambosos would eventually lose the titles to current undisputed lightweight champion Devin Haney in back to back defeats. He has only lost to Haney but believes he has a chance to reclaim championship glory.
Hughes will look to derail Kambosos comeback train, and make a name for himself if he pulls off the upset.
Fight Card
Lightweight – George Kambosos Jr vs. Maxi Hughes
Lightweight – Keyshawn Davis vs. Francesco Patera
Welterweight – Giovani Santillan vs. Erick Bone
Heavyweight – Jeremiah Milton vs. Willie Harvey
Middleweight – Troy Isley vs. Antonio Todd
Heavyweight – Amron Sands vs. Hemi Ahio
Heavyweight – Stephan Shaw vs. Joseph Goodall
How to watch Kambosos vs. Hughes Fight Online, Date and Start Time:
Watch the Top Rank Boxing on ESPN Lightweight Doubleheader – George Kambosos Jr. vs. Maxi Hughes – Keyshawn Davis vs. Francesco Patera broadcast, Saturday, July 22, 2023 at 10:00 p.m. ET/ 7:00 p.m. PT LIVE on ESPN, ESPN Deportes and Live Stream online on ESPN+.