On October 28th, the world of combat sports is set to witness an intriguing crossover showdown between two giants: Francis Ngannou and Tyson Fury. The anticipation for this battle is palpable, with fans eagerly awaiting the outcome of this unique clash between a mixed martial artist champion and a heavyweight boxing champion. While the fight promises excitement, it's essential to examine why Ngannou faces an uphill battle against Fury in the boxing ring.
Power Doesn't Guarantee Success in Boxing:
Francis Ngannou's rise to fame in the UFC was marked by his extraordinary punching power, often resulting in quick knockouts. However, history has shown that power alone does not ensure success in the world of professional boxing. Fighters like Conor McGregor and Tyron Woodley, who ventured into boxing from MMA, struggled to translate their power into victories. Boxing requires a different skill set, precision, and endurance that Ngannou might not be accustomed to.
Endurance Matters:
In the UFC, Ngannou's fights typically last a maximum of 25 minutes, including five championship rounds. However, his upcoming boxing match against Tyson Fury is a twelve-round affair, totaling approximately 36 minutes. This extended duration could prove to be a significant challenge for Ngannou, who will need to adapt his fighting style and pacing to endure the longer rounds.
If he last's into the longer rounds. Tyson Fury is known for his intelligence inside the boxing ring. He's experienced in fighting for the full 36 minutes, allowing him to carefully analyze his opponents and execute well-planned tactics.
Fury knows precisely when and where to employ his strategies and traps. This tactical prowess could pose a significant obstacle for Ngannou, who is used to quick, explosive starts in the octagon.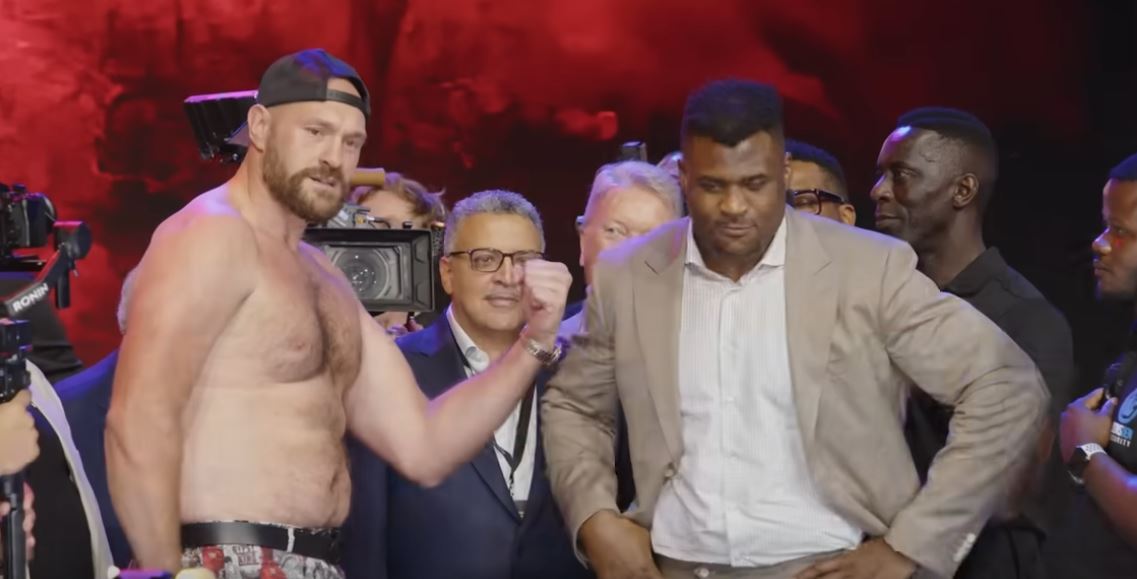 Ngannou has built his MMA career on explosive, early-round knockouts. In fact, only one of his MMA victories came via decision, and it was his most recent fight. Boxing, however, often demands a more measured approach, and it remains uncertain whether Ngannou can maintain his usual blitzing style while wearing boxing gloves against a defensively sound heavyweight champion like Fury.
Fury's Resilience and Experience:
Tyson Fury has already demonstrated his resilience by getting up from a Deontay Wilder punch, a fighter renowned for his knockout power. Fury's experience on the big stage, having fought in venues like Las Vegas, Wembley Stadium, and White Hart Lane, gives him a mental edge. He thrives in high-pressure situations, making him a formidable opponent.
Mental Strength:
In terms of mental strength, Tyson Fury seems to have the upper hand. His battles with Wilder, both in and out of the ring, showcased his mental fortitude. In contrast, Ngannou's mental resilience has been tested less frequently, with one notable instance against Cyril Gane. Additionally, Ngannou's loss to Stipe Miocic, where he was outclassed, raises questions about his ability to adapt to unfamiliar situations and strategies.
The Weight of the Occasion:
The magnitude of this fight cannot be understated. Expected to earn over ten million dollars for the bout, Tyson Fury is no stranger to such high-profile events. In contrast, this is uncharted territory for Francis Ngannou, whose largest payday in the UFC was a mere fraction of his expected purse. The pressure and scale of this event may prove to be overwhelming for the MMA powerhouse.
Conclusion:
While the matchup between Francis Ngannou and Tyson Fury promises excitement and intrigue, it's evident that Ngannou faces significant challenges in transitioning from MMA to boxing. The differences in fighting styles, endurance requirements, and mental resilience make Fury the clear favorite in this bout in my opinion. One may have to ask, is this moment perhaps too big for Francis Ngannou, the biggest man in combat sports.
Follow Luis Quiles on Tik Tok and YouTube
@lou2sick on Tik Tok
@lou2sick on Youtube
Tik Tok @lou2sick
YouTube @Lou2Sick