Tyson Fury and Francis Ngannou held the first initial press conference to announce their 10-round boxing match on Saturday, October 28 in Riyadh, Saudi Arabia which will be broadcast on Top Rank on ESPN Pay-Per-View in the United States.
The two heavyweight titans of the combat sports world were in London face to face and exchanged early predictions and compliments ahead of their mega-fight.
Fury is the undefeated WBA world heavyweight boxing champion and he is best known for his three exciting fights with Deontay Wilder who previously held the title. Fury and Wilder fought to a Draw in their first fight, and Fury would eventually knockout Wilder in both rematches to win and retain the WBC title.
Fury vs Ngannou already has massive interest in the United States, and in Europe, the crossover appeal to crown the baddest man on the planet and the fun factor is what draws casual fans to these type of fights.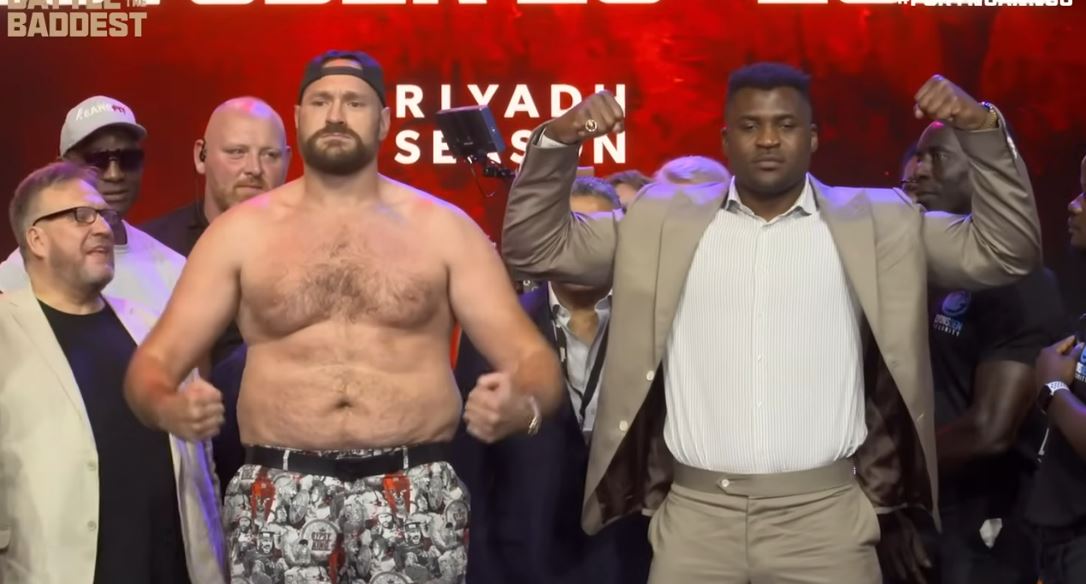 Floyd Mayweather vs Conor McGregor was the first of its kind, were an undefeated top boxing star took on the biggest star in the world of MMA in a boxing match. The bought did huge numbers and that is something Fury and Ngannou plan on doing as well.
The appeal for this fight compared to Mayweather-McGregor is that both are heavyweights and both could end each other with one punch. Fans will be curious to see if the former UFC heavyweight champion's power can carry over into the boxing world with big gloves.
Fury is the clear favorite due to his size and boxing skills, but he is not taking Ngannou lightly because the MMA fighter has a different style of striking and could present problems for him if he doesn't adjust. The power is also something Fury has to be cautious of because Ngannou is considered the hardest puncher in MMA.
The heavyweight boxing event is promoted by Frank Warren's Queensberry, Bob Arum's Top Rank and Francis Ngannou's GIMIK Fight Promotions.