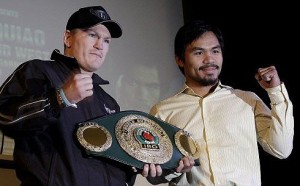 LONDON (AFP) — England's world light welterweight champion Ricky Hatton believes he will emerge victorious over Filipino pugilist Manny Pacquiao in their world title bout in Las Vegas on May 2.
The 30-year-old Englishman met up with Pacquiao, who confirmed his status as the world's leading fighter with victories over Juan Manuel Marquez, David Diaz and Oscar De La Hoya in 2008, in London on Monday for a friendlier meeting than can be expected of the fireworks when they face each other in May.
"My size and strength will be a key factor," Hatton told BBC Sport.
"Light-welterweight is my weight division. I've never lost at 10st and I'm brimming with confidence."
While Hatton admires his opponent, a four-weight world champion, he believes that the Filipino beat a de la Hoya, who was on the decline….Full Story
Join the NowBoxing Forum sign up is FREE