With fight week just around the corner, Team Pacquiao and Team Hitman Hatton prepare for the final stretch capping off the final sparring sessions before May 2.
Strategy and game planing is the key for every trainer before every fight. The trainers are the mind and see what a fighter can't see from the outside, and Freddie Roach with Michael Moorer have studied and devised a plan on how to use Hattons aggression against him.
Mayweather Sr. and Hatton are super confident instead of training really hard they are enjoying and joking around because they feel Pacquiao will be too small for him and his win over Oscar De La Hoya at welterweight was a one off because the Golden Boy hadn't fought at 147 in years and was drained of all his energy by trying to make the weight.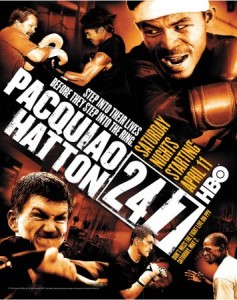 The Hatton side is banking on their size, while Pacquiao's team is planning on using their footwork, speed and angles against the charging bullish style of the Hitman.
The anticipation is building up and this will be one of those fights to remember that could possibly end in a knockout given the aggressive nature of the two participants.
The replay of this episode will be on HBO check your local listings for times and dates.
NowBoxing will keep you posted on following episodes of 24/7.