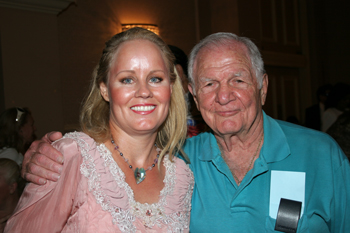 Lou with Eva Futch (Photo: George Garcia)
Lou Filippo, a referee and boxing judge for over 30 years, passed away on Monday Nov. 2nd, in Los Angeles. He was 83 years old.
Before Lou started refereeing and judging fights he served in World War II. Filippo also boxed professionally in California as a lightweight from 1947 -1957, his record was (23-9-3-8 KOs)
His most notable fights were with Hall of Famer and former lightweight champion  from Puerto Rico, Carlos Ortiz.  Ortiz was famous for his wins over Gabriel "Flash" Elorde of the Phillipines
Lou Filippo, was also well known for his appearances as a referee in the "Rocky" movies, Sylvester Stallone had hired him for Rocky 2 through 5.
R.I.P. Lou Filippo 1925-2009
Discuss this and other boxing events in the Now Boxing Forum (membership is FREE)