By Nowboxing Staff
Miguel Cotto Sr. the father of former world champion boxer Miguel Cotto passed away in Puerto Rico of an apparent heart attack.
Cotto Sr. had suffered from health problems such as asthma and had to carry an oxygen tank around to help him breathe properly.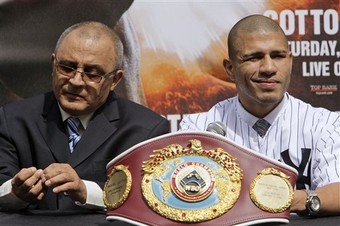 Miguel Cotto with his father during the Manny Pacquiao vs. Miguel Cotto press tour(AP Photo/Mary Altaffer)
The report of Cotto's death was published in El Nuevo Dia a Puerto Rican media outlet.
Miguel Cotto and his father had a very close bond as evidenced in the HBO 24/7 Pacquiao-Cotto series.
In the episodes of 24/7 Cotto Sr. and his son would speak of how important family was.  Miguel Cotto loved and respected his father and drew strength from him.
Our thoughts and prayers are with the Cotto family.