By Ian Webb (SBB)
Got an Opinion? Submit Your Article to Nowboxing.com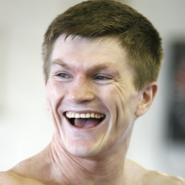 After his announcement he is looking for one more war rumors are abound that Manchester, Englands Ricky "The Hitman" Hatton who dropped trainer Floyd Mayweather Sr. immediately after his devastating loss to Manny Pacquiao last May is leaning towards selecting hometown trainer Joe Gallagher.
Gallagher considered by many to be Great Britian's top boxing trainer has taken over the gym where Hatton used to train, the Phoenix Camp Gym. Hatton trained there for many years under the tutelage of Billy "The Preacher" Graham and conditioning coach Kerry Kates. Kates is still there and has joined Gallagher training some of Englands top fighters like John Murray and Matthew Macklin.
The gym has been renamed to Gallaghers but the old school ways have remained. Gallagher who already has a business relationship with Hatton who promotes Macklin feels he knows how to get "The Hitnan" back to the top stating "With fighters like Ricky it's not a case of teaching them new things it's about reminding them what they do best." In regards to Hattons shape he knows that Hatton is driven once training begins and he knows the "Hitman" will be focused.
For the most part Hatton could have his choice of opponents for that big fight with Juan Manuel Marquez at the top of the list. A rematch with Paulie Malignaggi would work or a all British War with Amir Khan could be made if Khan doesn't grab Malignaggi first.
Here at www.StrictlyBusinessBoxing.com we fell Gallagher would be a great fit for Hatton and going back to Kates for conditioning would be a giant step back to the old "Hitman"we all loved. Squaring up with "The Preacher" would also be a tremendous move on all fronts and another great step turning back the clock which at this point is a one shot deal for the "Hitman."
Oh yeah since we brought up Macklin how about a Macklin / Pavlik fight?
Discuss this and other boxing events in the Now Boxing Forum (membership is FREE)