While boxing fans await the announcement of the Manny Pacquiao vs. Floyd Mayweahter Jr. fight, something else that will capture boxing fans attention has arouse,  the video of Mike Tyson's confrontation with a paparazzi at the Los Angeles airport was released today.
The video of Iron Mike Tyson's run in with a paparazzo photographer Tony Echeverria at the LAX airport last November 2009 was leaked by gossip website TMZ.
In the video it shows the photographer Tony Echeverria following Mike Tyson around the airport after Tyson has enough he approaches the photographer and threatens to kill him the video camera drops and there is blood on the camera lens.
Click the image to watch the Mike Tyson airport beatdown video: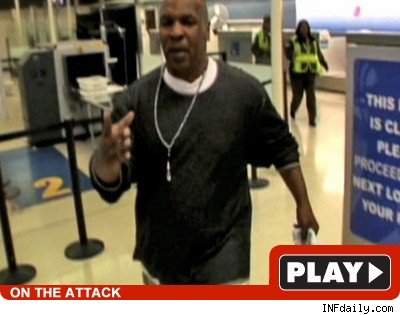 On December 31,2009 Mike Tyson had assault charges dropped due to insufficient evidence.
Discuss this and other boxing events in the Now Boxing Forum (membership is FREE)