By Mark C. Calelero
Got an Opinion? Submit Your Article to Nowboxing.com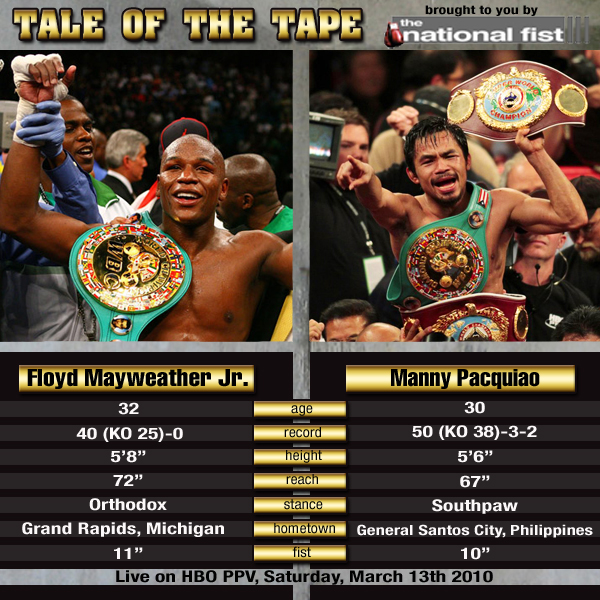 Define hypocritical.
Floyd Mayweather Jr. has made himself famous in America and some parts of the globe for being a talented-smart-skillfull undefeated fighter. He has made himself an ounce more popular after he fought Oscar De La Hoya. He knows his exact role in boxing as a fighter but for some reason he chooses the other way when he opens his mouth.
The boxing world has been held hostage for some weeks a now about the mega bout of our generation between P4P kings. It was amazing to hear that a few weeks before this was a done deal then suddenly went sour.
Floyd wanted a fair playing field in the sport of boxing(though he just blew a lightweight and came overweight.) and insist for a random blood test for the first time in his 40 career fights. A few, including myself have nothing to say against his request for random blood testing because it seems positive but what makes it wrong is the shadow behind that request.
If GBP(Golden Boy Promotions) and Mayweathers' intention is sincere, he should have filed a petition to the COMMISSION asking for a more rigid drug testing to both fighters and Top Rank together with Manny could not do anything but follow like what happened from the Pacquiao/Morales1(NSAC extracted blood 1 day before the weigh-in). So, all fight matches after this fight will follow the same procedure and Mayweather can write his name in the boxing bible. It would have been great.
In the State of Nevada, pro-boxing is governed by people we call "COMMISSION" and part of that is the NSAC that runs the drug testing. .. The Mayweather's not even GBP CEO Richard schaefer are not in the position to dictate the rules and nor any outside agency can duplicate the role of NSAC, that's why its called "COMMISSION" only the vote of the committee can change the rules, that's a fact. Either you follow the rules or you don't fight in NEVADA.
What's going to happen if the COMMITTEE will allow fighters to dictate the rules? That means that an overwhelming fighters in the future are going to dictate the rules without filing any petition and that would make the COMMISSION a bunch of impotent/toothless/ incompetent/ overpaid dummies. Then pro-boxing will of course crumble.
Manny and Top Rank CEO Bob Arum did nothing wrong. Like every fighter, Manny humbly respected and followed the rules of the COMMISSION. Manny gives more exciting fight that is worth every dime we pay. He fights like a typhoon from the pacific. Most of us didn't had any interest on boxing before, the fact it was boring I'd rather watch golf or spend my money somewhere else. But when this little guy came in like a storm knocking people out cold bigger than him. The last time i had the same experience was during the prime of Tyson. Having both Top Rank and GBP promotion richer every time Manny steps in the ring(GBP has promotional interest on Manny's fights). Manny is just simply phenomenal in this generation.
Mayweather together with GBP suggested the right thing but at the WRONG FOOT fooling around with the media and created a cloud of doubt on Manny's reputation after accusing Manny of juicing just because he refuse to do the random blood testing.
If Mayweather loves the sport(like what he said after coming back from the retirement), all he needs to do is respect the COMMISSION by filing a petition and let the commission do their job. Or find another planet where he can fight and make his own rules.
This fight needs to happen, not just because boxing needs it but because this is the best thing that can happen in our generation.. At the moment we are all at the mercy of what's going to happen after the mediation with former United States Federal Judge Daniel Weinstein. May God grant us all our wishes.
Discuss this and other boxing events in the Now Boxing Forum (membership is FREE)