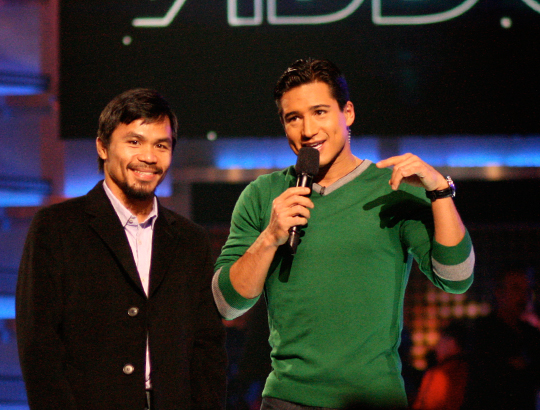 Got an Opinion? Submit Your Article to be posted on Nowboxing.com
Manny "Pacman" Pacquiao took a break from his rigorous training camp to drop by MTV's America's Best Dance Crew.  Pacquiao was invited by his friend and host of America's Best Dance Crew, Mario Lopez.
Manny showed off his karaoke singing chops when he sang "Sometimes when we touch" on Jimmy Kimmel live, maybe he will show off some of his dance moves on America's Best Dance Crew? Tune in to find out.
The episode will air on Thursday, February 25, 2010, on MTV (click for more info on America's Best Dance Crew and TV schedule)
Pacquiao will fight Joshua Clottey on March 13 at Dallas Cowboys Stadium.  "The Event" Pacquiao vs. Clottey will be televised by HBO pay-per-view, contact your local cable/dish provider to order the fight.
Post your Comments in the Now Boxing Forum (membership is FREE)