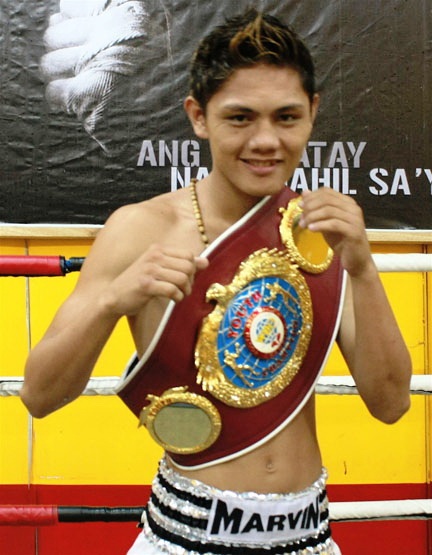 Got an Opinion? Submit Your Article to Nowboxing.com
HOBOKEN, N.J. (Feb. 22, 2010) – Filipino sensation "Marvelous" Marvin Sonoma is hungry to capture another world title, as well as overcoming the aftereffect of losing his WBO super flyweight belt on the scales in his last fight, this coming Saturday night in the highly-anticipated showdown against hometown hero Wilfredo "WV2" Vazquez, Jr. for the vacant World Boxing Organization (WBO) junior featherweight championship.
Vazquez, Jr.-Sonsona is one of two world title fights featured on the split-site "The Double Assault" pay-per-view broadcast, commencing at 9 PM/ET live from Reben Rodriquez Coliseum in Bayamon, Puerto Rico, the hometown Vazquez, Jr., who plans to make Puerto Rican history by defeating 19-year-old Sonsona.
The unique, double-barrelled broadcast  is being distributed in the United States and Canada by Integrated Sports Media for live viewing at 9 PM/ET – 6 PM/PT on both cable and satellite pay-per-view via iN Demand, DIRECTV, TVN, DISH Network, Viewer's Choice and Shaw PPV for a suggested retail price of only $34.95.
PR Best Boxing Promotions, in association with All Star Boxing and Sampson Boxing LLC., is presenting the Puerto Rican segment of "The Double Assault" pay-per-view.
WBO No. 2 rated Vazquez, Jr. (17-0-1, 14 KOs), the WBO Latino super bantamweight champion, would become the first Puerto Rican son of a world champion (Wilfredo Vazquez, Sr.) to capture a world title by defeating  former WBO super flyweight titlist Sonsona (14-0-1, 12 KOs), ranked No. 3 by the WBO.
Sonsona, billed in the Philippines as that country's next Manny Pacquiao, fought Alejandro Hernandez to a draw last November in Canada. Marvin, however, lost the WBO super flyweight title that he had won in his previous fight against Jose Lopez, due to weighing-in 2 ½ pounds over the 115-pound contractual weight. Sonsona is fighting two full weight classes above super flyweight against Vasquez, instead of taking a "tune-up" fight before fighting in this world title bout.
"My promoter (Sampson Lewkowicz) wanted me to take this fight because I have a big chance to win the title," Sonsona explained. "It's a good opportunity for me to get a championship belt back. I've trained hard for this fight and we've worked on his (Vazquez) weaknesses. He makes a lot of mistakes. This fight is very important for me, especially being on pay-per-view in North America. I want to make up for what happened in Canada and win another world title. I'm hungry and focused on this fight; I'm hungry like a tiger.
"Manny is Manny. It's hard following in his footsteps but all I can be is my best and, hopefully, bring another world title home. Fighting in his (Vasquez) hometown doesn't bother me. The officials will be fair and I have a lot of Puerto Rican fans, too. I'm not sure if it'll end in a knockout, but it's going to be a very good fight."
Unbeaten cruiserweight prospect Carlos Negron (7-0, 6 KOs), 2008 Puerto Rican Olympian, provides chief support in a 6-round bout against Rudy Ashworth. Also fighting on the card in their pro debuts are the Arroyo twins, flyweight McWilliams and bantamweight McJoe, also members of the 2008 Puerto Rican Olympic Boxing Team.
The PPV action continues later Saturday night, live from Guadalajara, as WBC light flyweight champion Rodel "Bantang Mandaue" Mayol (26-4-1, 20 KOs), rated No. 2 by The Ring, defends his belt in the 12-round main event versus the WBC No. 1 contender, former WBC light flyweight titlist Omar "Giant Killer" Nino (28-3-1, 20 KOs). Also airing on the  Guadalajara card, presented by Boxeo De Gala, is a 10-round WBC Youth lightweight championship match between defending champ Daniel "Tremendo" Estrada (21-1, 17 KOs) and veteran Angel Alirio "El Morocho" Rivero (21-7-1, 14 KOs).
Integrated Sports Media: North America's leading distributor of International Pay-Per-View and Closed Circuit sports events has presented World Championship and world-class boxing matches featuring Ricky Hatton, Cristian Mijares, Evander Holyfield, Roy Jones, Jr., Ivan Calderon, Rocky Martinez, Nicolai Valuev, Amir Khan, Marco Antonio Barrera, Arthur Abraham, David Haye, John Ruiz, and Ruslan Chagaev. In addition, Integrated Sports Media distributed numerous International soccer matches showcasing teams like Club America of Mexico and the National Teams of Argentina, Honduras, El Salvador and the USA, as well as World Championship and world-class mixed martial arts shows featuring Fedor Emelianenko, Tim Sylvia, Bobby Lashley, Bob Sapp, Jeff Monson, and Roy Nelson. For more information on upcoming Integrated Sports events visit www.integratedsportsnet.com.  
Post your Comments in the Now Boxing Forum (membership is FREE)