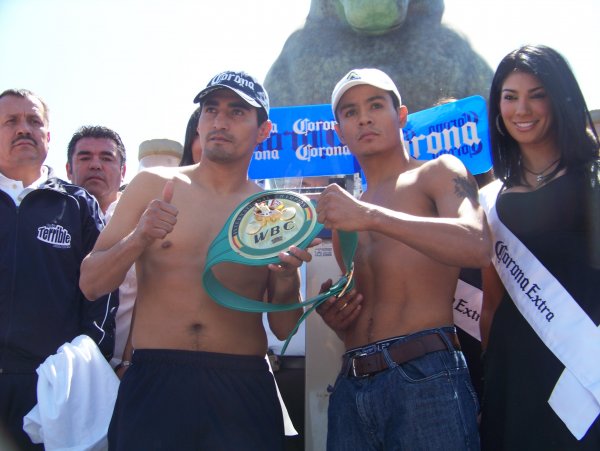 Erik "El Terrible" Morales (48-6-34 KOs)  and Jose Alfaro (23-5-20 KOs) both made the 147-pound welterweight limit for their Pay-per-view fight on Saturday, March 27 at the La Explanada Del Palacio Municipal in Monterrey, Nuevo Leon, Mexico.
Erik Morales weighed in at 146.8 pounds and his Nicaraguan opponent Jose Alfaro 146.1 lbs.
This will be Morales first fight at 147-pounds, Morales previously held the 122-pound, 126-pound and 130-pound titles, but is now on a comeback quest to add a fourth division title to his mantle and become the first Mexican to do so.
In 2005, Erik Morales was the first Mexican and last boxer to defeat Manny "Pacman" Pacquiao. Morales and Pacquiao fought two more times, but the Filipino boxer was able to redeem himself by stopping the durable Mexican in both rematches.
Morales made an attempt to grab a fourth weight division title in 2007 when he fought David Diaz for the WBC lightweight title, but lost, after that fight he retired. Erik's rival, Manny Pacquiao, would later move up to 135-pounds and challenge David Diaz for the WBC belt beating Diaz by knockout.
KO Entertainment and Box Latino Presents: "The Champion Returns" PPV,  Saturday, March 27, 2010 – 9 PM/ET 6 PM/PT at Monterrey, Mexico.
PAY-PER-VIEW INFORMATION
Distributed in the United States by Integrated Sports Media for live viewing at 9 PM/ET – 6 PM/PT on both cable and satellite pay-per-view via iN Demand, DIRECTV, TVN and DISH Network, for a suggested retail price of only $29.95.
"The Champion Returns" PPV is also available on www.GoFightLive.TV outside of the United States and Mexico.
Got an Opinion? Submit Your Article to be posted on Nowboxing.com
(Please refrain from leaving any Vulgar, Racist comments or they will be removed, Thank You)
JOIN the Now Boxing Forum (membership is FREE)