Venezuelan world boxing champion Edwin "El Inca" Valero was found dead at 1:30 am on Monday in his prison cell located in (Policarabobo) Carabobo police headquarters. Valero was arrested after confessing to killing his young 24-year old wife Jennifer Carolina Viera De Valero in a Valencia hotel room on Sunday. His wife's body was found with stab wounds but police haven't found the murder weapon.
Valero used his clothes to hang himself in his prison cell. An inmate adjacent from his cell called for police after hearing noises coming from Edwin Valero's cell. According to police reports Valero was still showing signs of life but later died of mechanical asphyxia.
This is one of the most shocking and tragic stories in sports. Valero was a promising young knockout artist that was mentioned as a possible opponent for Manny "Pacman" Pacquiao. Valero was a fan friendly fighter with 27 wins, no losses, and all 27 wins coming by way of knockout.
He spent years chasing a fight with Manny Pacquiao ever since they both fought at 130-pound super-featherweight division it was a goal of his to fight the fellow southpaw. Valero signed on with Bob Arum's Top Rank promotions in hopes of landing a fight with the Filipino dynamo.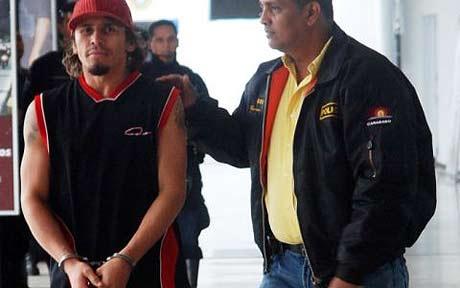 Valero was not permitted to fight in the United States ever since suffering brain trauma from a motorcycle accident on February 5, 2001, he wasn't wearing a helmet and had fractured his skull and underwent surgery to remove a blood clot from his brain.
Edwin Valero (December 3, 1981 – April 19, 2010)
Got an Opinion? Submit Your Article to be posted on Nowboxing.com
JOIN the NOW BOXING FORUM to discuss this and other boxing news topics (membership is FREE)