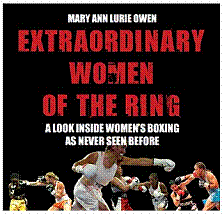 50 PORTRAITS AND HUNDREDS OF PHOTOS OF THE MOST FAMOUS FEMALE BOXERS IN THE WORLD
"Extraordinary women of the ring" is the first book dedicated to the world of the female boxing, to these amazing women who chose one day to lace up the gloves, as the men before them. About 50 professional women boxers are honoured in words and images. Mary Ann LURIE OWEN photographs for years bodies, knocks, blood and sweat, tears also, of these women all around the world.
Behind ropes, shielded from her objective, the author offers a feminine glance, full of modesty, respect and strength. "Extraordinary women of the ring" only touches on just a few of the hundreds of professional women boxers. This book is dedicated to them.
DISCOVER THESE FATES SO PARTICULAR,
ILLUSTRATED WITH HUNDREDS OF NEW COLOURED PHOTOS
The historic fight between Christy MARTIN and Deirdre GOGARTY in March 1996 on a Pay per View brought female boxing center stage and had inspired many females.
In 2009 the Olympic committee finally approved female boxing but only three weigh divisions. 2012 female boxing will make its debut in London, England. Women were first allowed to compete in the Olympic stadium in 1922; 90 years on, hopefully, London 2012 will show real progress for sportswomen.
"EXTRAORDINARY WOMEN OF THE RING",
WHICH THE RELEASE IS PLANNED IN SOME WEEKS,
IS ON PRESALE ON THE SITE OF THE PUBLISHER WWW.KIROED.COM
Extraordinary women of the ring, Mary Ann LURIE OWEN (texts and photos)
Forwards: Jackie Kallen, Freeda Foreman, Eddie Mustafa Muhammad
Publisher: Kirographaires Editions – 300 pages, more than 250 photographs
Size: 8.66 x 9.06 inches
ISBN: 978-2-917680-02-5
Got an Opinion? Submit Your Article to be posted on Nowboxing.com
JOIN the NOW BOXING FORUM to discuss this and other boxing news topics (membership is FREE)