By Jason Sardelis
Friday night April 2nd at The Masonic Temple on the undercard of O"Shea Brothers "Brooklyn Brawl" light heavyweight prospect Joe "The Irish Bomber" Smith Jr. remained perfect demolishing Chris Dammone in 18 seconds. Smith coming in 3-0, 3Ko's in limited time has shown he has the ring savvy and power in both hands needed to make a move in the light heavyweight division. In each and every outing he has demonstrated the necessary traits usually associated with a champion.
Got an Opinion? Submit Your Article to be posted on Nowboxing.com
In front of his large following Shirley, Long Island's light heavyweight Joe "The Irish Bomber" Smith Jr. took on Lynchburgh, Virginia's Chris Dammone. Both fighters entering with perfect records added some extra drama with someone's record to be tarnished. Dammone, 1-0, 1Ko appeared unimpressed by Smith's perfect record through three showed he was more than willing to battle waiting in the center of the ring only to ushered back to the corner by the referee to wait for the bell.
On the opening sound the two clashed in the center of the ring with both fighters looking to end it early. Dammone launched a left, right which Smith countered with a quick 1-2-3 immediately repeating it, this time doubling the hook to the head. Stepping around turning Dammone, "The Irish Bomber" ripped a right left combination to the Virginian's body.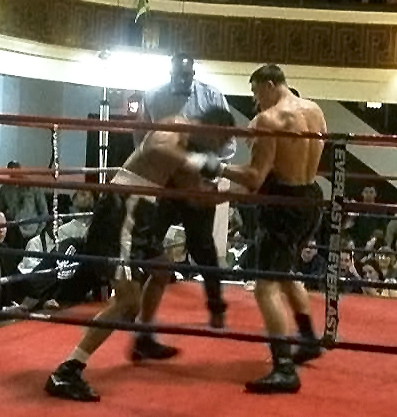 Firing his punches now like a well oiled gattling gun Smith rocked Dammone with a thunderous straight right sending him reeling. "The Bomber" then jumped Dammone like a cheetah trouncing its wounded prey banging away with both hands wobbling Dammone with a monstrous right uppercut. Staying close "The Irish Bomber" blitzed the now wounded Virginian with a blistering five punch combination putting Dammone on queer street forcing referee Murdaugh to step in and save the game Dammone any further punishment.
The 20 year old Smith can be described as a boxing reincarnation combination of Philadelphia's Jack O'Brien and "Irish" Bob Murphy. He moves and punches with both hands behind a solid defense like O'Brien but loves to fight and packs dynamite in both hands targeting both the head and body with a relentless unforgiving assault reminiscent of "Irish" Bob. Last night he demonstrated the hook of a Bob Foster and the combination punching of Billy Conn.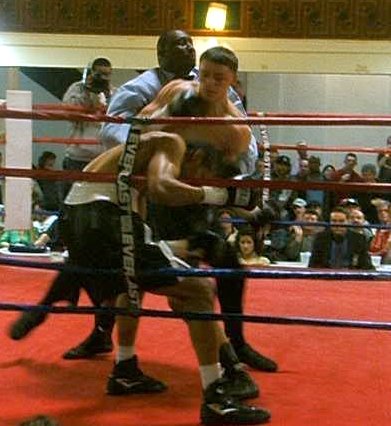 (Photo's by James Jenkins)
Smith comes from a solid amateur background winning NYC Metro and Gold Glove Championships where he was proclaimed the second coming of Kelly Pavlik. Under the guidance of manager Phil Capobianco and the tutelage of trainers Gerry Capobianco and Chris Canzone it's only a matter of time until the "Irish Bomber" explodes at the top of the light heavyweight division.
Still perfect at 4-0, 4Ko's a match against Alex Mancera who battled Ronson Frank for the NYS Light Heavyweight title would be a good step if they make it soon. A battle with Frank could come a little ways down the road.
View the fight below Joe Smith Jr. vs Chris Dammone April 2nd The Masonic Temple O'Shea Bros Brooklyn Brawl

Got an Opinion? Submit Your Article to be posted on Nowboxing.com
JOIN the NOW BOXING FORUM to discuss this and other boxing topics (membership is FREE)