Hall of Fame boxing trainer, Freddie Roach, will take on the task of improving UFC welterweight champion, Georges "Rush" St-Pierre's boxing for his upcoming title defense against Josh Koscheck.
GSP announced the news that he will be training with Freddie Roach at the world famous Wild Card boxing club in Hollywood, on the May 20, 2010 episode of the Jim Rome morning radio show.
Prior to the pairing of Roach and St-Pierre, Freddie Roach in an interview with HDNet's Inside MMA said of all the MMA fighters he hasn't worked with he would love to work with Georges St-Pierre the most.
Roach has trained many famous boxers, from Oscar De La Hoya, Bernard Hopkins, Mike Tyson, James Toney, the Klitschko brothers, and currently Amir Khan and pound-for-pound boxing king Manny "Pacman" Pacquiao.
Freddie Roach is one of the most sought after boxing trainers in the world, and unlike other top boxing trainers he's open to train MMA (Mixed Martial Arts) fighters in helping them improve their hands and boxing for MMA.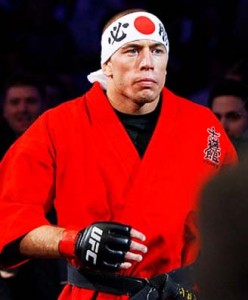 Photo of Georges St-Pierre
MMA fighters Freddie Roach has worked with include; Anderson Silva, Andrei Arlovski, BJ Penn, Tito Ortiz and countless other up and coming MMA fighters.
No word on whether GSP will train with Roach for a short time or for a couple of weeks, he was in a rush and only gave a brief interview with Jim Rome.
Georges St-Pierre is scheduled to coach The Ultimate Fighter Season 12 alongside his opponent Josh Koscheck as the opposing coach.
Got an Opinion? Submit Your Article to be posted on Nowboxing.com
JOIN the NOW BOXING FORUM to discuss this and other boxing news topics (membership is FREE)