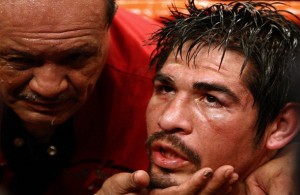 Antonio Margarito vs. Roberto Garcia will headline the main event of Bob Arum's Top Rank "Latin Fury 14" on Saturday, May 8  at Aguascalientes, Mexico. Top Rank is airing the non-televised undercard for FREE beginning at 7:00 PM ET/PT on the Top Rank website at www.TopRank.com/TRLiveStream.
This will be Antonio Margarito's first fight back since his suspension in Jan. of 2009 for having illegal substances in his hand wraps prior to his TKO loss to Sugar Shane Mosley. Margarito also hopes to face Filipino welterweight champion, Manny Pacquiao, if he gets past the durable Roberto Garcia, who happens to be training with Pacquiao's trainer, Freddie Roach, at the Wild Card gym in Hollywood.
Garcia (28-2, 21 KOs) prepared for his tough 154-pound Jr. Middleweight fight with Margarito (37-6, 27 KOs), by sparring tough sparmates at Wild Card, like Alfredo "Perro" Angulo.
The Antonio Margarito vs. Robert Garcia "Latin Fury 14"  PPV broadcast begins at 9:00 PM ET/PT, the Top Rank PPV, price is $39.95.
Got an Opinion? Submit Your Article to be posted on Nowboxing.com
JOIN the NOW BOXING FORUM to discuss this and other boxing news topics (membership is FREE)