London – 10th November 2010
Brighton's Ben Murphy replaces Kevin O'Hara in the Matchroom Sports Prizefighter – Super Featherweights which takes place at York Hall in Bethnal Green, London on Saturday 20th November.
Murphy, who is the current Southern Area Lightweight Champion, joins a star studded lineup that includes; WBU/WBF Featherweight World Champion Choi Tseveenpurev, former WBU Featherweight World Champion Derry Matthews, British Super Featherweight Champion Gary Sykes, European Lightweight title challenger Gary Buckland, European Super Featherweight title challenger Scott Lawton, former Central Area Super Featherweight Champion, and now a regular on TV's Coronation Street, Stephen Bell and Prizefighter – Lightweights semifinalist Gary McArthur.
Following a couple of sparring wars, with Featherweight George Jupp and Lightweight Ricky Boylan at the Ultrachem TKO Gym in Canning Town, Murphy, who is clearly in confident mood, simply said, "I'm gonna win the 32 grand."
A grinning Brian Lawrence, Murphy's manager and trainer, quickly added, "We're glad that Matchroom have put us in the Prizefighter. What they've done is put the cat amongst the pigeons. Ben is a real handful, it's going to be an exciting show and I think Ben has a very good chance of winning it.
I think in the Prizefighter you need a little bit of luck, because it's only three rounders. But he's raring to go."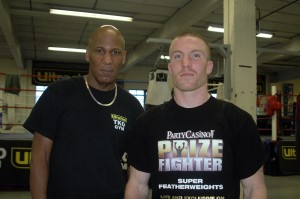 When asked has the late call-up affected the way Murphy is preparing for Prizefighter Lawrence replied, "I know the call came late, but we were training for it anyway. When the cut come they didn't include us, but we kept ticking over though. When we got the call we were already ready.
As you'll see on the night he's in good shape and I don't see any problem with the amount of time we had to train for it.
We've had quite a few sparring partners. Ricky Boylan, George Jupp and another kid called Tyler, I can't remember his second name, but he's quite a good kid. We've also been sparring with Lee Purdy, he's the Southern Area Welterweight Champion and had loads of others as well. There's always a lot of sparring around in London, there's no problem with that. He's ready to go."
Prizefighter – The Super Featherweights will be at York Hall in Bethnal Green, London on Saturday 20th November 2010 and broadcast live on Skysports.
Tickets: Ringside (£60) and unreserved (£35) available on-line at www.tkoboxoffice.com, call 07960 850645 or in person at the Ultrachem TKO Boxing Gym in Canning Town.
*Please refrain from leaving any Racial, Profane or Derogatory comments*
Got an Opinion? Submit Your Articles and Press Releases to be posted on NowBoxing.com
JOIN the NOW BOXING FORUM to discuss this and other boxing news topics (membership is FREE)