MIAMI (Oct. 28, 2010) – Unbeaten, UNBC Middleweight Champion Michael "Chairman of the Board" Oliveira returns to his roots November 20, headlining "A Gala Night of Boxing" pro-am event, at Espaco das Americas in Sao Paulo, Brazil.
"A Gala Night of Boxing," presented by Rumble Star Promotions, in association with Reunion Sports & Marketing, will air live on SporTV and TV Globo International.
The 20-year-old Oliveira (11-0, 9 KOs), named by the Brazilian International Press Award's as its 2009 Athlete of the Year, was born in Sao Paulo but he moved two weeks after birth with his family to Miami.
"We're very excited to go home and have the opportunity for Michael to showcase his skills to Brazilian boxing fans there and watching on TV Globo International and SporTV," said Michael's father and Rumble Star CEO, Carlos Oliveira. "Michael has many family members, friends and a growing fan-base in Brazil, as well as the United States. TV Globo, the third-largest network in the world, has started a partnership with us to broadcast Michael's fights during the next two years through SporTV and Globo TV International. We're positioning Michael to fill the void in Brazilian boxing left by the great Acelino 'Popo' Freitas when he retired."
Oliveira, who won the UNBC title September 11, 2009, will make his defense in the 10-round main event against Dominican power-puncher Junior Ramos (10-5, 6 KOs).
Other fighters scheduled to fight on the "A Gala Night of Boxing" cards, against opponents to be determined, include South American and Brazilian Heavyweight Champion George Arias (46-11, 33 KOs), of Sao Paulo, and light middleweight Edvan Dos Santos Barros (10-10-1, 7 KOs), who lives in Florida but was born in Salvador, Brazil.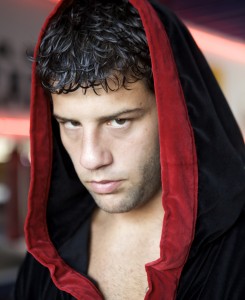 Brazil's top amateur boxers and Sao Paulo favorites, female heavyweight Roseli Feitosa and welterweight David Lourenco, are also slated to box in separate matches. Feitisa is the 2010 World Boxing Championships gold medalist, while Lourenco reigns as the 2010 Youth Olympic Games gold-medal winner.
All fights and fighters are subject to change.
Tickets, priced at 30 Reais (General Admission) and 200 Reais (Ringside), are available by calling 55-11-40031212 or going on line to www.ingressorapido.com.br.
Doors open at 7 PM/GMT (6 PM/ET), first bout at 8 PM/GMT (7 PM/ET). Go on line to www.MichaelOliveria.com for additional information.
Oliveira's valued sponsors include The Beira – Mar and Pro 1 from Sao Paulo and the multi-national fuel company, Shell.
*Please refrain from leaving any Racial, Profane or Derogatory comments*
Got an Opinion? Submit Your Articles and Press Releases to be posted on NowBoxing.com
JOIN the NOW BOXING FORUM to discuss this and other boxing news topics (membership is FREE)