WORLD BANTAMWEIGHT TOURNAMENT COMES TO TACOMA
World Champion Perez, former World Champions Darchinyan, Agbeko
join undefeated Mares in World Title Tournament
TACOMA, Wash. – Four of the world's top bantamweights will battle it out in The Bantamweight Tournament: Winner Takes All semifinal bouts on Saturday, Dec. 11 at the Emerald Queen Casino in Tacoma, Wash.
The two-stage, single-elimination tournament of 118-pounders will feature International Boxing Federation world bantamweight champion Yohnny Perez (20-0-1, 14 KOs), two-division world champion Vic Darchinyan (35-2-1, 27 KOs), former IBF world bantamweight title holder Joseph Agbeko (27-2-0, 22 KOs) and undefeated Abner Mares (20-0-1, 13 KOs).
"One of the big complaints about boxing is all the great fighters avoid each other. That's not what's happening here," said Brian Halquist, who is co-promoting the event with Gary Shaw Productions, Golden Boy Promotions, Thompson Boxing Promotions and Don King Productions. "You have four of the best fighters in the world going at it. Washington State has never had a card like this."
Perez defends his IBF world title against Agbeko in one semifinal match-up, while Darchinyan and Mares vie for the International Boxing Organization title in the other semifinal bout.
The bouts are scheduled for 12 rounds. The winners will clash in the finals in 2011 with the losing fighters competing in a consolation fight.
The eight-bout card begins at 6 p.m. SHOWTIME will televise the fights live at 9 p.m. ET/PT (delayed on the West Coast).
Undefeated Perez captured the IBF world championship with a unanimous decision over Agbeko on Oct. 31, 2009 – knocking Agbeko to the canvas in the 10th round en route to the title victory.
"Whoever wins goes on; whoever loses, there is still a fight," said Perez, who knocked out Jose Laureano in his only other local fight on July 28, 2007. "My goal is to win it all. I'm very happy about the tournament because basically everyone included has a title. I don't consider myself the favorite. I know I'm the world champion but I go into every fight thinking I'm the underdog. I'm going to prepare for this fight and come out victorious."
Darchinyan captured the IBF super flyweight world championship at the Emerald Queen Casino on Aug. 2, 2008 with a fifth-round knockout of Dmitry Kirillov before unifying the IBF/WBA/WBC belts with a victory over Jorge Arce three months later.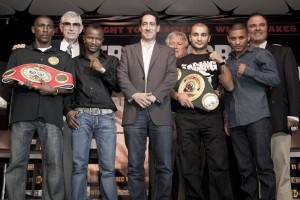 "I moved up to challenge other champions," Darchinyan said. "The super tournament connects all the dots. I don't want to defend my titles and fight No. 10, No. 15. If I fight, I collect all belts. The point is not who you can beat, it's what champions you can beat. I want to prove myself and I want to prove to everyone I'm the best."
Highlighting the undercard will be a bout for the vacant WBO NABO super flyweight title between top 10-ranked Cesar Seda (19-0-0, 14 KOs) and an opponent to be determined.
Also appearing on the undercard will be current top 10-ranked bantamweight contender and former WBA world flyweight champion Eric Morel (42-2-0, 21 KOs), undefeated Federal Way heavyweight Vincent Thompson (6-0-0, KO) and Vancouver, Wash. Light welterweight Virgil Green (1-0-0).
Super bantamweight Chris Avalos (17-1-0, 14 KOs) meets Cecilio Santos (25-15-3, 15 KOs),
The undercard begins at 6 p.m. Tickets are available at the Emerald Queen Casino box office 1-888-831-7655 and at all Ticketmaster outlets. For more information please visit www.halquistproductions.com.
*Please refrain from leaving any Racist, Profane or Derogatory comments*
Got an Opinion? Submit Your Articles and Press Releases to be posted on NowBoxing.com
JOIN the NOW BOXING FORUM to discuss this and other boxing news topics (membership is FREE)