Exciting Dutch Cruiserweight Mitchell Balker's first UK fight proved to be a baptism of fire, in more ways than one. Mitchell, who recently relocated to London to be managed and co-trained by Johnny Eames at his Ultrachem TKO Gym in Canning Town, faced highly rated Matty Askin on the undercard of Matthew Hatton's European title defense in Bolton last Friday.
Taking on Great Britain's unbeaten number eight ranked Cruiser on his first UK outing, in doing so risking his own hard earned 'O', shows the size of Mitchell's cojones and more so the faith Johnny Eames has in his hard punching charge.
It was never going to be an easy fight and sure enough Mitchell did lose his precious 'O', but in highly controversial fashion, following a rather strange decision by the referee, to step in and stop the fight whilst Mitchell and Matty Askin were busy exchanging punches.
Following a training session, with co-trainer Derek Grainger, an anything but down hearted Mitchell spoke briefly on the fight, "I have to watch the tape to be sure. What Johnny (Eames) says is that I lost the first round, so the second round I came back.
Third round I started hurting the guy, but I have to see the tape back, because I got a eight seconds (count), I stood up, fought back. The guy jumped on me, I fought back and the ref stopped the fight though.
I couldn't believe what happened so I was asking why he stopped the fight. But that's what it is, it is though. That's what happened so I just want to see the tape.
I'm back in the gym and work hard for the January fight."
Whilst Mitchell is unclear on what had gone on, being rather busy at the time battling with a very good opponent, his manager and co-trainer, Johnny Eames, had a much clearer view of the proceedings. "First round Mitchell came out and was walking Askin down" said Johnny, "but he wasn't throwing the punches, so he was walking on to the jab quite often, although it wasn't a stiff jab, it wasn't stopping Mitchell in his tracks and anything Askin was throwing missed as Mitchell was either blocking or slipping, but he just wasn't getting his own punches off.
I think that was probably because it was his first time with us and him trying too hard more than anything else.
He had done a little better in the second round and had a little bit more success. But I still gave that round to Askin because his constant jab, which again was blocked most of the time but was finding the target occasionally and Mitchell again was closing his own work down although not as much as the first round.
The third round Mitchell finally got to do more that I asked him to do. I told him he had to throw punches when walking him back. We changed our tactics a bit, usually I would say if the first punch don't land, don't throw the second but we said if the first punch don't land make sure you throw the second and third but moving your feet in.
He was having loads of success and actually hurt Askin a few times. I believe Askin has said as much himself in recent interviews when he said that Mitchell is the hardest puncher that he's fought. That was shown by the fact of how often Mitchell was hitting him and a couple of times it rocked him.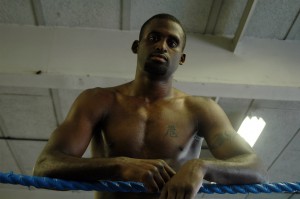 Mitchell was well winning the third round up until the point of getting clipped by a short right hook over the top of his left lead, which made him touch down momentarily. He jumped up, too soon really, whether it hurt or not I still think you should still take the eight count, you should take it on one knee rather than standing up. But Mitchell through inexperience, being the first time he's been down, jumped up too soon. The referee's finished the eight count and said carry on.
Askin then came onto the attack and they both ended up on the ropes in Mitchell's own corner. They were both trading, no one was throwing more punches than the other. They were both equally throwing the same sort of punches and then quite unexpectedly the referee stepped in and stopped the fight.
Mitchell was clearly unhurt and protesting that the fight shouldn't have been stopped and I had words with the referee.
Afterwards when talking with Richard Poxon, Ricky Hatton and numerous of Hatton's people everybody agreed that the fight shouldn't have been stopped but they're glad it was because it looked like Mitchell was getting on top.
For me it's a fight we'll always want a rematch with. Not necessarily right away, give Mitchell a couple of fights and if they're willing to have a rematch we'll have one."
Now that's a mouth watering prospect, and a chance for Mitchell to right the wrong done to him, but as Johnny said that is something for the future. Right now, Mitchell has already put the Askin fight well behind him and is back in the gym focusing on his next outing, which will be on the Graham Earl Promotions 22nd January 20111 show at the York Hall in Bethnal Green, London.
Tickets for The Graham Earl Promotions event at the York Hall, Bethnal Green, London on Saturday 22nd January 2011 will be available shortly.
For tickets call: 07960 850645, book on-line at www.tkoboxoffice.com or in person at The Ultrachem TKO Gym, Gillian House, Stephenson Street, Canning Town, London E16 4SA.
*Please refrain from leaving any Racist, Profane or Derogatory comments*
Got an Opinion? Submit Your Articles and Press Releases to be posted on NowBoxing.com
JOIN the NOW BOXING FORUM to discuss this and other boxing news topics (membership is FREE)