London – Friday, 3rd December 2010
The official weigh-in for the Yassine 'The Showman' El Maachi – Jimmy 'Pit Bull' Colas International Masters Light Middleweight title clash was held at the Ultrachem TKO Gym in Canning Town, London tonight.
Ryan 'Mr Attitude' Barrett and Almin Kovacevi also weighed-in ahead of their clash, as main support for El Maachi-Colas at the Steve Goodwin promoted 'Judgement Day' event at York Hall in Bethnal Green, London.
YASSINE EL MAACHI – JIMMY COLAS.
Yassine El Maachi 11st 0lbs
Jimmy Colas 11st 0lbs
Whilst waiting for Jimmy Colas to arrive a smiling Yassine El Maachi gave his prediction on the fight result. "Well the guy is tough, he's not really an easy opponent. He's number four in Europe, so I will probably stop him in round three or four. If not then maybe the fight will go the distance."
A late arriving Jimmy Colas, speaking through his interpreter, said "I never underestimate my opponents who all deserve respect. I am well prepared to stage a relentless 10-round war against El Maachi."
RYAN BARRETT – ALMIN KOVACEVI
Ryan Barrett 10st 1lb
Almin Kovacevi 9st 13lbs
Following the weigh in Ryan Barrett said "I'm looking forward to fighting tomorrow. It'll be my first time out since the Mark Alexander blast out. I'd expect to do more rounds this time than what I got from Mark.
I think this guys gonna come and give it 100% for four or five rounds, making it a bit awkward and I expect a nice comfortable points win at the end of it really.
Maybe Steve (Goodwin) could try and drag one of these other top guys into fighting at one of his shows for a major title afterwards."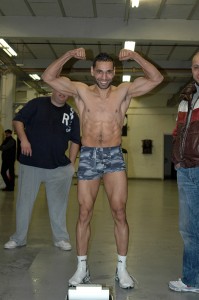 *Please refrain from leaving any Racist, Profane or Derogatory comments*
Got an Opinion? Submit Your Articles and Press Releases to be posted on NowBoxing.com
JOIN the NOW BOXING FORUM to discuss this and other boxing news topics (membership is FREE)