by Gianluca (Rio) Di Caro
Former IBO Light Welterweight Champion of the World Colin Lynes is set to make his welcome return to the ring this coming Saturday, the 12th February, against Bradley Pryce at the Matchroom Sports promoted John Watson versus Anthony Crolla vacant British Lightweight Title clash at Olympia, Liverpool.
What may surprise a few people is that Colin, a career long Light Welterweight, will now be campaigning in the Welterweight division.
To aid him with the transition Colin has enlisted father and son team Jimmy and Mark Tibbs as well as switching his training base to Johnny Eames' excellent Ultrachem TKO Gym in Canning Town.
It's at the TKO that I managed to not only watch Colin train and spar over the past couple of months, but also managed to get to chat with him on various occasions. The last in an official capacity which enabled me to get an insight into why he has chosen to change division, coaching team and training base after all this time. The full interview follows but first a brief history of Colin Lynes' championship career.
Colin, who began his pro career with 1st round knockout of Lee Frost in June 1988. After compiling a perfect record of 20 wins and 0 losses Colin successfully challenged Richard Kiley for the vacant IBO Inter-Continental title in December 2002. His reign as champion was short lived as just three months later, on his first defense at York Hall on 8th March 2003, he was stopped in the eighth round by South African Samuel Malinga.
Undeterred by his first career loss Colin put together a three win run, beating Brian Coleman, Fabrice Colombel and Cesar Alberto Leiva, to earn the right to make a full scale challenge against Argentinian Pablo Daniel Sarmiento for his IBO World Title at Goresbrook Leisure Centre in Dagenham on the 8th May 2004.
Following an exceptional hard fought battle Colin lifted the coveted belt, albeit with a little controversy, as when the judges score cards were read out two showed 117-111 and 116-112 in favour of Colin and with the other judge seeing it 114-115 in favour of Sarmiento.
Colin successfully defended his title in February 2005 against Oakland, California's Juaquin Gallardo. Again it was another very close fight, Colin had the better of the early rounds with Gallardo coming on stronger in the later part of the contest. This time two of the judges see it in favour of Colin with 116-113 and 117-113 scores and judge Artur Ellensohn see the bout dead even at 114-114.
On the 21st October 2005 Colin unsuccessfully challenged Junior Witter for his European, British and Commonwealth titles. A few months later, on the 20th January 2006 Colin and Lenny Daws clashed, in a British title eliminator, for the Southern Area title. After nine grueling rounds Colin hopes of challenging for the British title again faded as the fight was waved off as he sat in his corner.
Never one to be dejected Colin secured two nice wins, against Janos Petrovics (6th round stoppage), and Arek Malek (2nd round retirement due to hand injury) before successfully challenging Barry Morrison for his British title in his own back yard on the 8th June 2007 at Motherwell Civic Centre.
Just over a month later, on the 20th July, Colin defended his newly won British crown and at the same time challenged Young Mutley for his European title, again in his opponents home town.
Colin was oozing confidence, and it showed in his performance. Mutley was outclassed on the night, constantly getting caught by stiff jabs and bruising left jabs from the Hornchurch man. By round eight Mutley began looking dejected and it came as no surprise to the watching crowd when Colin sends Mutley to one knee with a solid left. Mutley gets up and accepts the count.
The moment the referee, Richie Davies, finishes counting Colin is all over Mutley like a rash, throwing big left and rights that send his crashing back to the canvas. Richie Davies instantly jumped in to end the contest. Colin is elated to have added the European Light Welterweight Belt to his collection.
Colin successfully defended his European crown against Finland's Juho Tolppola on the 25th January 2008 by a convincing 120-108 (twice) and 119-109 points margin.
Four months later, in Torino, Italy, Colin's European reign came to an end following an incredibly close fight against Gianluca Branco. At the end of twelve hard fought rounds two judges scored it 113-114 for Branco and judge Predrag Aleksic scored it 115-113 in favour of Colin.
Two championship losses followed in quick succession, the first against Paul McCloskey for the British title on the 5th December 2008 see Colin retire in the ninth round. The second, for the now vacant European belt, against France's Souleymane M'baye went the full distance and see Colin again on the wrong side of a contentious split decision verdict.
Colin's next outing was competing in the hugely successful Matchroom Sports promoted Prizefighter series. In the first round Colin secured a split decision victory over David Barnes and then see off Young Mutley with yet another split decision. On the other side of the draw Gavin Rees was storming through to the final.
The final was all out war, neither protagonist gave or expected any quarter. But in the end there is only one winner and this was Rees' time.
Colin's final fight as a Light Welterweight came just four months later, when Colin challenged Nigerian Ajose Olusegun for his Commonwealth title. Colin's challenge came to an abrupt end, just one minute and twenty three seconds into the eighth round, after Olusegun landed a massive body shot that left Colin retching.
This coming weekend Colin Lynes – The Welterweight – makes his new division debut against Bradley Pryce at the Matchroom Sports promoted John Watson versus Anthony Crolla vacant British Lightweight Title clash at Olympia. Liverpool.
Following one of his training sessions, with Jimmy and Mark Tibbs at the Ultrachem TKO Gym, I asked Colin why he has decided to campaign at Welterweight amongst other things.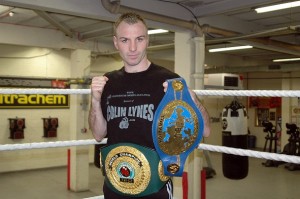 Rio – After almost a year out of the ring you're back again, this time as a Welterweight. What made you decide to move from Light Welter?
Colin Lynes – I was winning fights but I wasn't feeling great about it, you know. I remember beating a Finnish guy Juho Tolppola. I won every round hands down and even after that fight I didn't feel great in myself. I went home and spoke with my trainer and it was down to championship fighting.
I was fine in the gym sparring at ten-ten and then coming down to sort of ten-four the week of the fight. Obviously you don't spar any more and it was only when it came down to getting in the ring for real that my body was slowing down. I think I was tiring after eight or nine rounds initially, then it started coming down to six rounds and then the last fight was just the last one and I didn't even go in there feeling good.
Rio – Your first title was an International, not a domestic title. What made you decide to go this route?
Colin – Situation was you got Junior Witter, Ricky Hatton, Eamon McGee all active and champions and it was like a closed shop. The only sort of entry for me was to go the IBO inter-continental route and then win a full world title, which is what I did. You know, I didn't look back after that.
Rio – You've had some fantastic fights during your career and lifted virtually every domestic title there is and of course the World crown. Which fight holds the fondest memories for you?
Colin – I think it was winning the British title in Scotland. I was up against it, it was in Barry Morrison's home town. He had done a really good number on Lenny Daws, who had defeated me in a bad way for me.
Again another night when I wasn't too well. My dad was ill at the same time so I was really up against it and to go in there and box as well as I did, again I don't think I lost a round.
You know to pick the British title up and then four weeks later to then get the opportunity to fight for the European when the European fight between Mutley and Bami fell through I happily stepped in. I stayed in the gym and I won in emphatic style in Wolverhampton, again on away soil. It was a really good summer for me.
Rio – You recently switched trainers and are now with Jimmy and Mark Tibbs
Colin – I had to change, I had to change what I was doing. I had to take on board new information and I just had to change the whole preparation.
I was too stuck in a rut with the way I was getting trained for fights. You know I just needed to change what I was doing, take on board some new information, if it was out there – and I found that with Jimmy – and to go with my body.
That meant coming away from everything that I did do. New Gym, new me, new body and new information.
I didn't realise when I joined the Tibbs camp it was Jimmy and his son Mark. I mean I'm really, really chuffed, when I started working with the pair of them the work that they put into you combined, with Jimmy being the mentor and Mark being conditioning and putting all the nice tuning into your body.
I'm not used to that and really enjoy that. My body at my age is getting proper stretching, getting into the niggles and piggles and all the pains that get into your legs it's brilliant. They're a fantastic team it's really, really good. I'm really looking forward to this year
Rio – So it really is out with the old and in with new and that includes a new gym, so how is that working out for you?
Colin – It's great here at the TKO gym. I moved here to be in a busy gym, to have fighters from all different promotions, all different weights, walks and sizes and shapes and you get that here.
I enjoy the buzz, if it's a day time or an evening session, don't matter what time of day if you come in this gym there's something happening, there's a buzz.
At my age you need the youngsters to get you buzzing and get you feeling like your young, and that is how I'm feeling.
Rio – I was here when you sparred Kevin Mitchell the other day, It was an awesome session. I suppose it helps having quality sparring like that in-house?
Colin – Yeah you've got the likes of Kevin Mitchell but you've also got some new guys coming through that keep you on your toes.
They are raw talent. They know who you are but you don't know who they are. They always up their game and you sometimes show respect, but you've got to be careful and don't get caught out because you're being too lacksy-daisycall.
I've been sparring two young guys, Chris Evangelou and Ricky Boylan, both novices but really fancy the job, which is great for me and great for them, and I get rounds done.
As we touched on I've been sparring Kevin. We've know each other from old, we've been in the same gym before and we both know each other and know our flaws so we both know that if you lose that concentration for any second of any round you're gonna get found out and caught. So it keeps us on our toes, both sharp and that's without us going toe to toe really.
If I was helping him with a title fight or vice versa we'd have to up our game again and that's nice to know that we can go to another level as well even though that was serious sparring.
Rio – OK, you're fighting on Saturday – again it's away turf being in Liverpool, how do you feel about that?
Colin – Yeah, it's never fazed me, sometimes it's nice to get away from your area. My family come with me but it's nice to get away for your little bubble you've been used to and just get to the hotel and think about the task ahead. I enjoy it, I like it like that.
Rio – So now you're at a new weight what are your championship plans?
Colin – The British ranking system has carried me over, without me having this fight this weekend, they've accepted that now I'm a Welterweight and they've ranked me # 5.
Get this weekend, get a good win, out of the way and there's no reason why I shouldn't be in for a title shot. I thought it would be two or three fights to make a point but people seem to listening to the feedback they get from what I've been doing in here and you boys. I'm quite pleased that after this weekend there's no reason why I can't get a challenge in.
Matthew Hatton's looking for an opponent for his European, Denton Vassell is looking for an opponent for his Commonwealth and I'm always up for the Southern Area or British title so it's all there.
Rio – talking about titles, Jimmy Tibbs recently went on record saying you could go for another world title shot. Now we all know Jimmy doesn't do B.S.- so is that also on the cards?
Colin – I'm really, really chuffed about that. I don't let anything get to my head but Jimmy's been there, done it. Not just once but two or three times over and to hear that from Jimmy, that's the belief, that's one of the reasons I joined Jimmy and that to see it myself and if Jimmy believes it and I believe it there's no reason why I can't win another world title.
Rio – Colin, thank you so much, and good luck this Saturday.
Colin – Thank you and thanks to boxing fans everywhere.
Colin Lynes, against Bradley Pryce, will feature on the undercard of the Matchroom Sports promoted John Watson versus Anthony Crolla vacant British Lightweight Title clash at Olympia. Liverpool, on Saturday 12th February 2011.
Got an Opinion? Submit Your Articles and Press Releases to be posted on NowBoxing.com
*Please refrain from leaving any Racist, Profane or Derogatory comments*