By Gary Purfield
This coming Saturday May 21, 2011 at 1:00pm a statue of great Philadelphia Middleweight Joey Giardello will be unveiled at S 13th St and Mifflin St and E Passyunk Avenue in South Philadelphia.  The statue honors the former middleweight champ as well as many other past Philly fighters.
As a relatively young boxing writer (32) I knew little more than what I had heard from others about Giardello.  So as someone with an interest in the history of this sport and learning about the statue I began researching everything I could including speaking with family and friends from South Philly that were around during Giardello's time.
This is the first in a three part series on Giardello leading up to the statue dedication.  The first piece below provides a history of Giardello and background as a Philly middleweight.  It is hardly a complete biography of someone with a long story worth learning but a brief overview.  Included below are several sources that will give an interested reader much more information.  The second piece will take an in-depth look at the much debated fight with Ruben "Hurricane" Carter and the third will provide details for the statue project.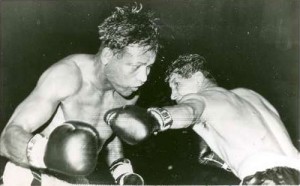 Part 1: South Philly's own Joey Giardello
Athletes come and go.  Sports stars pass through cities that draft them these days like vacationing tourists.  Some are welcomed into the new city and even a select few adopt their new hometown, where they settle in to become a revered figure in that cities culture.
Then you have boxing where a fighter represents his hometown.  But these days that means little and means less to where you end up fighting your bouts.  But in a time before I was alive and boxing was the biggest thing in the countries sports scene along with baseball and horse racing where a fighter was from meant something.  And for some it meant everything.  Hence you have Joey Giardello from South Philadelphia during the time when Philadelphia was truly the fighting city of Philadelphia especially known for its never ending supply of middleweight title contenders.  A figure that not only was from Philadelphia but represented its proud Italian culture and blue collar fighting spirit.
So it is fitting that through a great deal of work from family and supporters a new boxing statue will be unveiled on Saturday May 21 in South Philadelphia.  Joey Giardello will be become the first real life boxer to be honored with a statue and dedication commemorating his great career.  Everyone in  America knows of the statue that portrays the fictional boxer Rocky played by Sylvester Stallone but now the great Philly Middleweight Champion will be honored in the same manner.
Giardello was born in New York but then from South Philadelphia where he would spend the majority of his life.  Like many youth in Philadelphia during that time he got involved in boxing and turned pro in 1948 at the age of eighteen.  Giardello had a long road to the top.  He would have several streaks of wins and losses along the way before getting his first title opportunity in 1960 where he fought to a draw against Gene Fullmer.
Giardello would bounce back and then in 1963 scored an upset win over arguably the greatest fighter to ever live Sugar Ray Robinson.  This lead to a title shot in 1964 against Dick Tiger where Giardello won the middleweight title.  He would hold the title for almost two years winning four defenses over that time before losing it in a rematch with Dick Tiger.
He finished his career with a record of 101-25-7 (33 KO), reigned as middleweight champion from December 7, 1963-October 21, 1965, and was voted into the International Boxing Hall of Fame in 1993.  Giardello was 5-3-1 against other hall of fame boxers including his win over the great Sugar Ray Robinson.  Giardello lived out his retirement with his wife and son in Cherry Hill New Jersey where he passed away in 2008.
Possibly his most famous or now infamous bout was with Rubin "Hurricane" Carter in 1964.  Giardello won a decision on points.  Later this fight would be depicted in the movie the Hurricane starring Denzel Washington about how Carter was wrongly placed in jail for a murder he did not commit.  The movie portrays that Carter destroyed Giardello over fifteen rounds but is robbed in a racially unjust decision.  This fight will be covered in detail in the next piece but this was hardly a one sided fight where the movie took some very slanted liberties.  Giardello would later sue the movie company for the portrayal of him in the movie and the suit would be settled out of court for an undisclosed amount.
When speaking with South Philly natives about Giardello one thing stood out.  Of course everyone spoke of how good he was but no one spoke about Giardello as an icon or idol.  I was even dismissed when I referred to him as a South Philly icon.  No, just a guy from the neighborhood was the response.  He was liked and respected by Philly fight fans who attended his many fights in the city.  I was even told my grandmother could have told me a great deal about Giardello if she was still alive.  My grandmother was the farthest thing from a fight fan but was a fan of Giardello as he represented her home of South Philadelphia.
Not being viewed as an icon was not a negative but a positive.  Here was someone that achieved many great accomplishments in boxing yet was not out of touch with those around him like so many great athletes.  While I cannot know for sure I would guess this along with his greatness had a lot to do with why he was chosen to be the one Philly fighter that received a statue in his honor when so many could be chosen such as Benny Briscoe and Joe Frazier.
The statue and dedication ceremony will be held this coming Saturday May 21 at 1:00pm (full information below).  If you are a boxing fan and live in the Philadelphia area come out and join us for what should be a great experience reliving the history of the fighting city of Philadelphia.
For further information, history, and details visit the following sources.
http://www.joeygiardello.net/.
http://en.wikipedia.org/wiki/Joey_Giardello
http://boxrec.com/list_bouts.php?human_id=10923&cat=boxer
http://boxrec.com/media/index.php/Joey_Giardello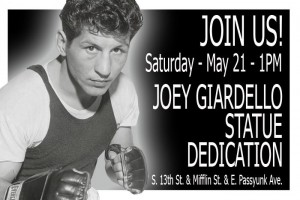 Question, comment, agree, disagree, or anything at all, send it to gpurf3@hotmail.com
Got an Opinion? Submit Your Articles and Press Releases to be posted on NowBoxing.com
*Please refrain from leaving any Racist, Profane or Derogatory comments*